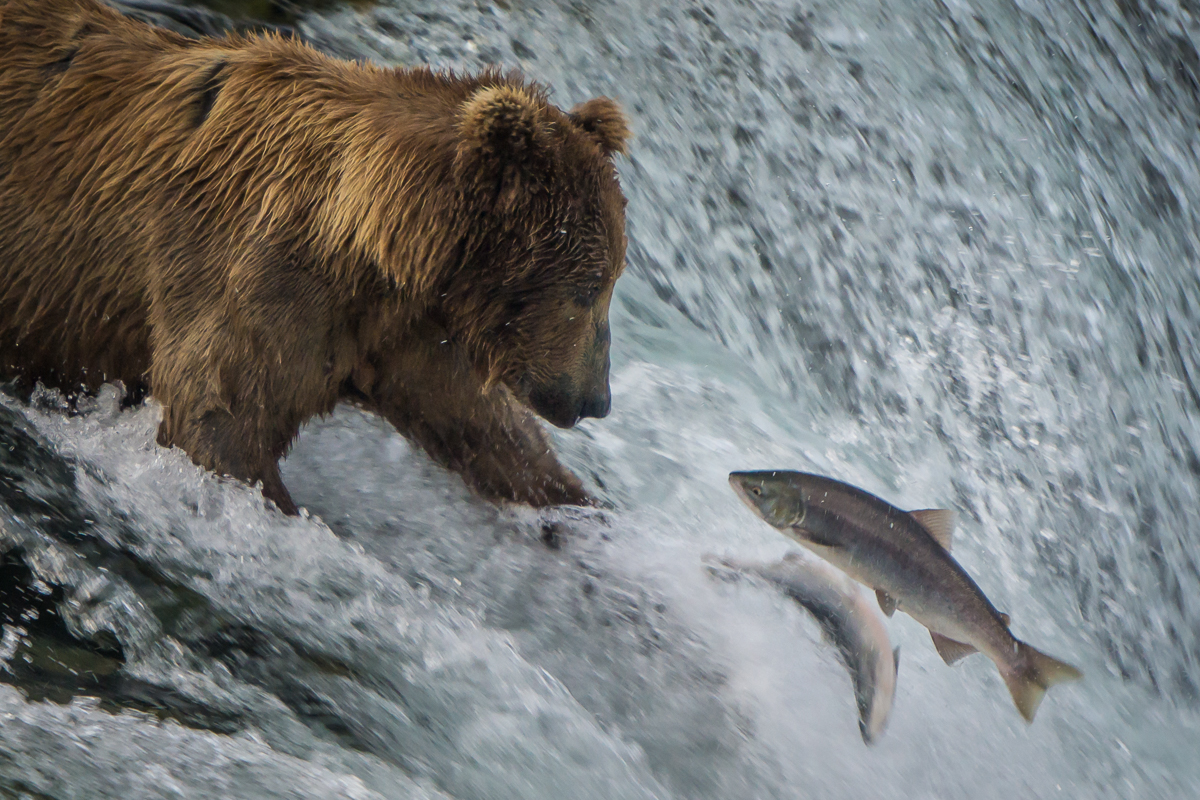 775 "Lefty" waits for a salmon to jump into his mouth. Photo courtesy of A. Ramos.
Last July, bear 775 "Lefty" arrived at Brooks Falls for the first time during the beginning of the salmon run. Normally a bear who only visited the Brooks River in the fall months, 775's behavior indicated an absolute lack of experience for pre-spawned salmon fishing. 
775 "Lefty," nicknamed for his short left ear, is a fully grown, older adult bear in his late teens. We do not know exactly why he showed up so unexpectedly at the falls in July of 2015, but his actions at the time made it clear that he was very hungry. For the first few days, he fished in a complete frenzy, chasing any fish he saw with complete disregard for technique or strategy. 
In doing so, he often got too close to other more dominant bears, and was accordingly involved in several physical confrontations. 775 showed little understanding of the social hierarchy in place at Brooks Falls. He challenged other bears that were bigger and more dominant than him, and tried to steal from nearly any other bear with a fish. Sometimes it paid off, but other times he paid for it. 
This behavior makes complete sense for a bear who was used to fishing for spawned out salmon. Spawned out salmon are close to the end of their lives, if not already dead, so are not nearly as energetic, and are easier to catch than pre-spawned salmon. There are also no real preferred fishing locations in the fall months, as the spawned out salmon are more widely distributed through the river. But, in comparison to the salmon in July, fall salmon are not nearly as fatty and nutritious - they have already used up their fat stores during the migration to their spawning grounds. These new, extra fatty fish must have been a very welcomed surprise for 775.
In his frantic attempts to catch a much needed meal, 775 tried nearly every fishing technique in the book, though lacked the patience to be particularly successful. Once, he even tried leaping off the falls with a belly flop in pursuit of salmon. After a few days of antics, 775 settled down and showed enough patience to hone the technique of fishing the lip of the falls. 
This year 775 again returned to the falls in July, but took what he learned from last year and put it into practice. Upon arriving, 775 cautiously approached the lip, giving other bears space. He immediately caught a fish, devoured it in the water, and returned to fishing. Then he caught and devoured another, and another.  He did not challenge bears like 856 or 747, and later avoided a physical confrontation with 402, another bear that fishes the lip. He was not seen stealing fish from any other bear. 
However, 775 has not become a pushover. He did challenged 480 on several occasions, and appears to have lost a bit more of his left ear, possibly during one of these altercations. Still, "Lefty" is taking far fewer risks this year, and appears to have settled in as a regular at the falls.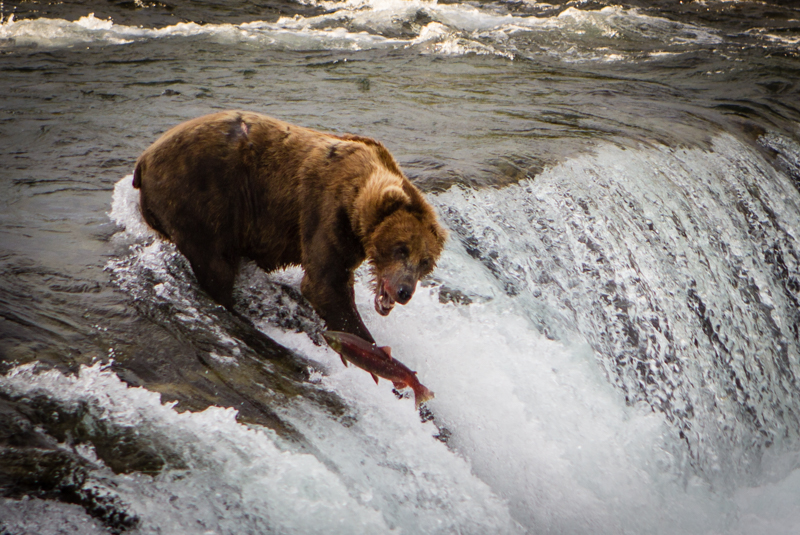 775, with an even shorter left ear, fishes the lip of the falls. Photo Courtesy of D. Kopshever.
"Lefty" still has some of his manic energy, bobbing his head and twitching far more than any other bear, but has settled down enough to fish successfully. Every once in a while he looks like he might make another leap off the falls, but to the disappointment of some, he has not. 
As we approach the end of July, 775, though not a particularly large bear, is looking very well-fed. He has taken his learning experiences from 2015 and applied them to become a successful bear in early summer. Wild bears don't perform tricks, but 775 has shown that even old bears can learn and adapt to new environments.
Throughout the leaner bear viewing month of August, we will highlight a new bear each week, to take a look at some of the bear stories that have developed this season. Look for more on the chat and on our social media pages.