When we picture science in action, we often conjure images of bespectacled figures in lab coats. We see these characters slouched over the tools of the trade: microscopes, beakers, seismometers, and other devices whirring, bubbling, and beeping. We picture long hours of exhaustively pouring over walls of arcane equations: a modern day mass of hieroglyphics that can only be deciphered by wizened carriers of Ph.Ds. Like many of the stories we tell, there is some truth to these images. 
I am going to be telling a different set of stories.
I want to look at science as it is lived in the field: the joys and challenges, the mysteries and wonders, the "aha" moments and the thrill of the expedition. I want to tell the stories of the research happening in Katmai National Park this season. The fieldwork this year is particularly exciting. There will be archeology expeditions. There will be in-depth wildlife monitoring by land, air, and sea. Researchers will deploy cutting edge tools to measure everything from the varied soundscapes of remote park ecosystems to the genomic history of brown bears to the stories volcanic glasses can tell about past climates on Earth. Whether you have an eye for ancient fossils hidden in the heart of a volcanic crater, human structures hidden beneath layers of forest soil, or the dramatic family histories hidden in the DNA of brown bears, there is a story for everyone this season.
We will be documenting these stories across the summer, in this blog, on social media, on the park website, and on the bearcam. As the science communicator, I will be travelling into the field with archeologists, biologists, and other experts committed to developing a better understanding of this rare and wild place. In June, we'll raft along the massive, many-braided Savonoski River to explore a barely documented archeological site. We'll excavate 1500 years into the past to uncover the complex human history of habitation in one of the world's harshest environments. We will fly above mountain meadows and camp in sedge meadows of wild coastline to explore the complex lives of brown bears and the lives of the marine organisms upon which these bears depend. In July, we will take to the air to track down park bears specific park bears to study their health at midseason. We will also move along the parks nearly 500 mile wild coastline to monitor the wellbeing of seabird populations. Later on, I will catch up with researchers collecting bear data by night, scientists gathering audio data from remote locations, and the teams tasked with protecting the park from damaging human-introduced plant species. Each of these expeditions and more are in the service of preserving this abundant land for future generations.
I will be asking questions that have no easy answer, seeking to learn what drives these researchers forward, what moments excite them in the field, and what mysteries they are grappling with. How can we prevent the spread of invasive plant species that threaten sensitive ecosystems? How can we best protect an array of coastal wildlife from the challenges posed by climate change, ocean acidification, and increased human activity? What are the most crucial ingredients for the wellbeing of some of the most massive animals on the planet, and how stable are those ingredients at present?
These are daunting puzzles, but the best questions often lead to the best experiences. Scientists, like all of us, are fundamentally storytellers. Their passages may be complex equations, layered methodologies, and indigestible terminology, but there are fascinating stories bound up in the minutia, if we are only able to translate that language. Join us this season as we journey to discover those stories together: in the field, in the lab, in the greater dialogs shaping public perception. 
I hope to offer a window into this immense, marvelous, and mysterious place. I also hope to show a side of science that is not always known: the human side. Hidden within the walls of data and the lines of academic reports are fascinating stories of people overcoming odds, embracing adventure, enduring hardships, unlocking secrets, and ultimately, finding joy and meaning in the pursuit of knowledge.  In this park are profiles in ingenuity, grit, and patient problem-solving: researchers divided by varied specializations but united in a deep love of this land and a determination to answer incredibly difficult but important questions.
This summer, archeologists will uncover new threads of the human tapestry of Katmai. Biologists will weave together images of how the mountain ties to the ocean, how the clam ties to the bear, and how actions halfway across the world influence these remote shores. Geologists will carve out further understandings of the saga of fire and ice: how volcanoes and glaciers etch their mark into the land and how those etchings support life. As park rangers, the staff of Katmai will take these stories and more and draw forth pieces of their significance. As the audience, as the owners of Katmai and all public lands, you can decide how these stories resonate in your own lives, and how each of you can use the science of today to solve the problems of tomorrow.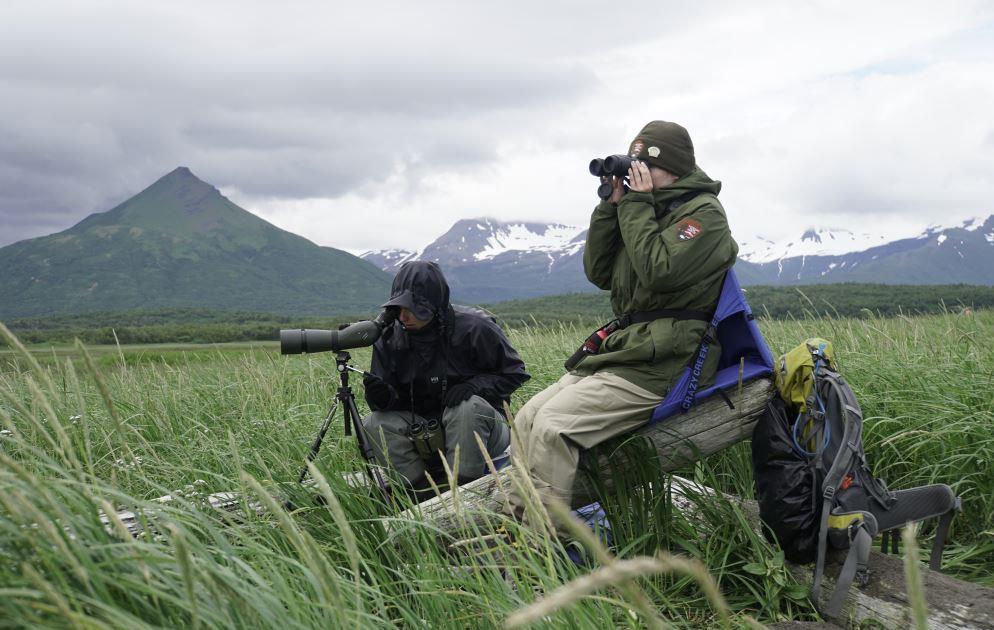 NPS Photo/K. Kunce: Researcher Joy Erlenbach and National Park Service Ranger Kelsey Griffin observe bears in the sedge meadows at Hallo Bay to learn how they use coastal resources. These observations, yielding new insights on the links between terrestrial and marine life, will continue at multiple sites on the coast this season.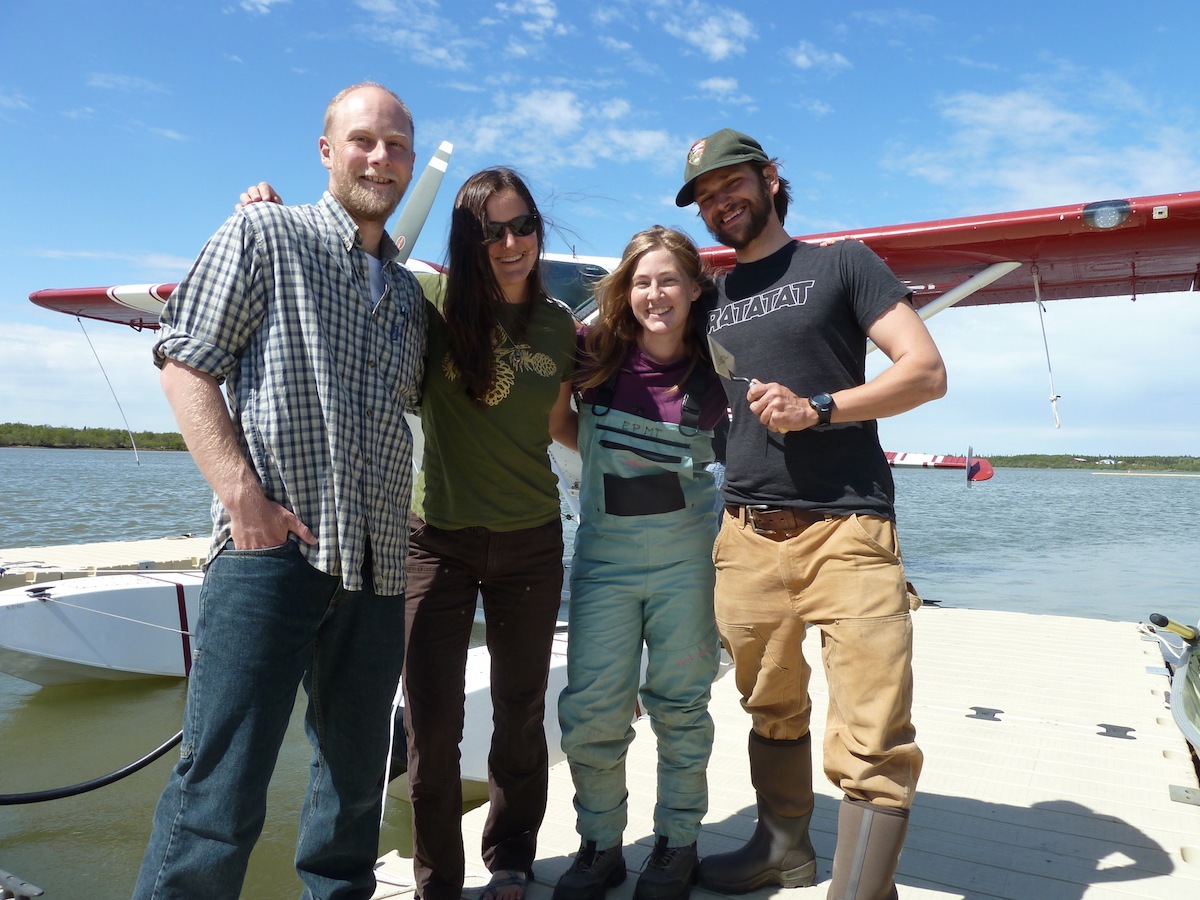 NPS Photo/C. Augustson: Members of Katmai's Archeology team pose before flying out to study a number of camp and village sites deep in the Savonoski Valley. These sites will further reveal the story of historic migrations between Katmai's coast and interior villages over hundreds of years of history.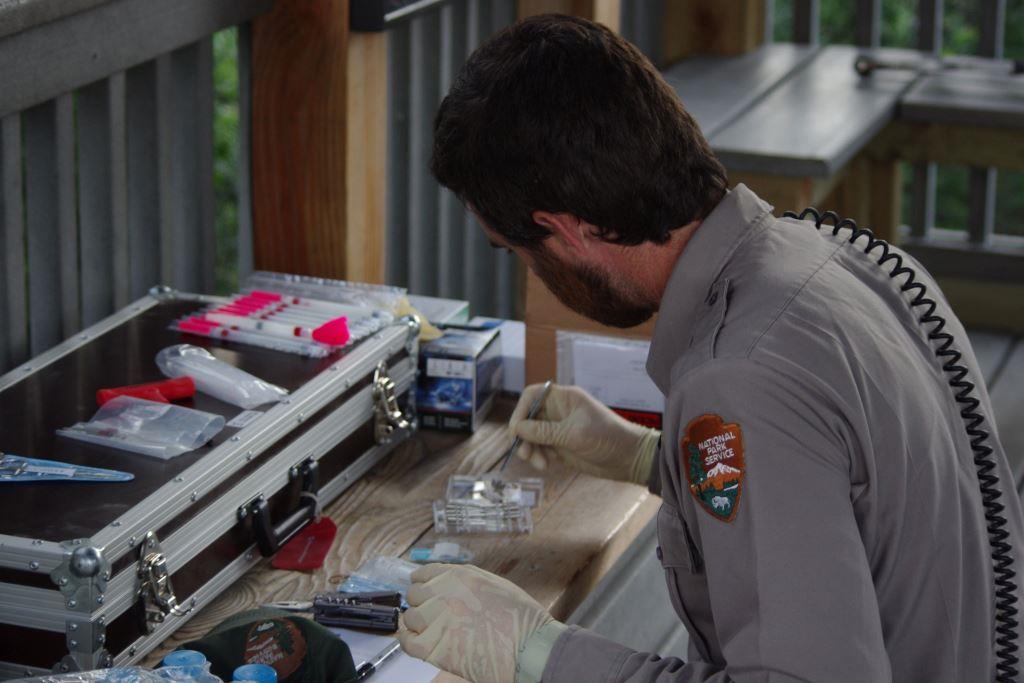 NPS Photo/D. Lombardi: NPS ranger and researcher Michael Saxton examines genetic samples before sending them out for further analysis. This DNA will help reveal the lineage and movements of Brooks Camp bears and other bears throughout the park.