What should you expect to see at Brooks River and on bearcam over the next month? 
Today, bears are still at Brooks River and fishing at Brooks Falls, but now is a time of dispersal for Brooks River bears. While other parts of Katmai fill with bears in August, it's the opposite at Brooks Camp. August brings bears more opportunities to find food away from Brooks River.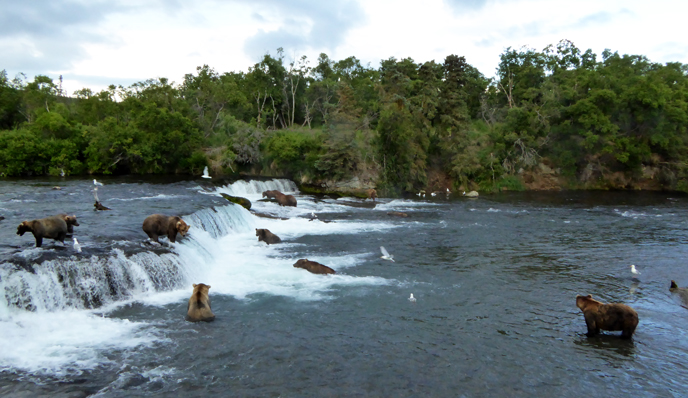 Last year on this date, few bears fished at Brooks Falls. This year we are treated with a little extra bear activity. NPS/M. Fitz.
I've spoken before (most recently during a recent play-by-play) about how bears are opportunists. More salmon and a slightly later migration will give some bears the opportunity to successfully fish at the falls for a longer period of time this year. In August, however, salmon stop migrating through Brooks River in large numbers.
Instead of surging through the river by the thousands, salmon disperse throughout the watershed to dozens of other small streams in the area. This provides bears with an opportunity to fish in many other places (most of which do not concentrate bears like Brooks Falls).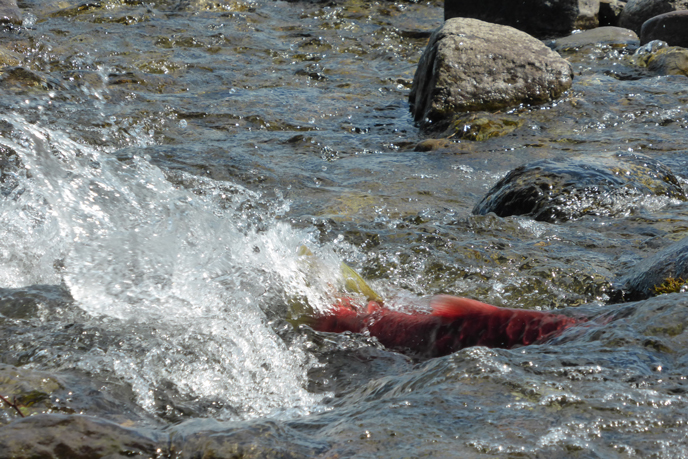 Many small streams in Katmai, some of which are only a few feet wide and very shallow, harbor spawning salmon in August. NPS/M.Fitz.
There is another reason to expect few bears at Brooks River in August—salmon accessibility. Many sockeye salmon inhabit Brooks River after they stop migrating, but they remain energetic and are present in low densities. This creates difficult fishing conditions for bears. If bears can't catch fish at one place, they'll go elsewhere. Only after salmon begin to spawn and die at the end of August and early September will fishing conditions improve enough for large numbers of bears to return to Brooks River.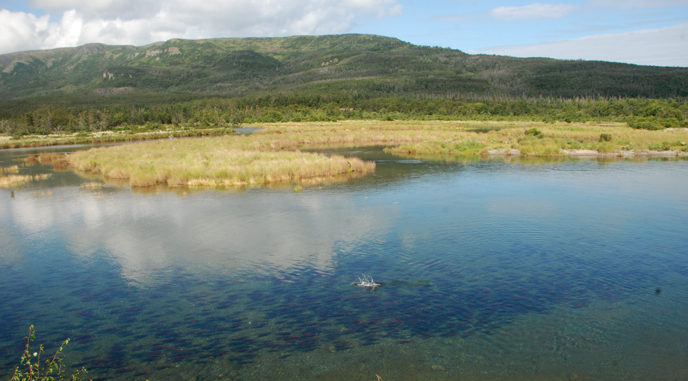 Even though salmon stage in Brooks River in August before they spawn, they are not easy to catch until they begin to spawn and die. NPS/B. Plog.
What should you expect to see at Brooks River in August? Few bears. Opportunities to catch salmon are simply better in other places. Bears are smart enough and curious enough to exploit those opportunities.