As I prepare to head back out to Hallo Bay I've been rereading my field notes and reminiscing on the highlights from my first trip. Immediately, I realize that I feel a little sad—I've missed out on the bears' lives while I've been in King Salmon. When you spend day after day observing the same animals, it's hard to not feel like you're a little bit a part of their lives.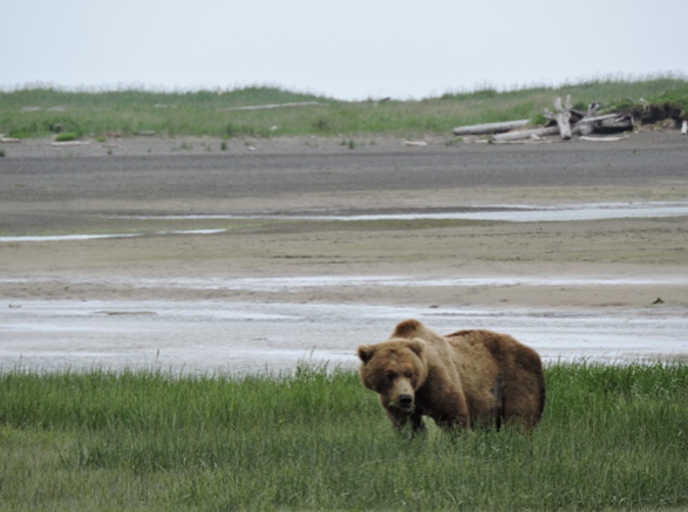 Hallo Bay is a popular destination for bears throughout late spring and summer. J. Ehrlenbach photo.
The other thing that strikes me is recalling how many times I was surprised by things I saw at Hallo Bay. I'll be the first to admit that I'm no seasoned veteran of brown bear field work, so I still have a lot to learn, but I have been doing wildlife work for nine years, and working with bears for over five years, so I'm not exactly a greenhorn, either. I thought I understood the basics of bear behavior, but watching bears in Hallo Bay has shown me that there's always more to learn.
 One day I watched a yearling cub chase an older bear around the tidal flats for about 5 minutes as the mom slowly followed behind but had nothing to do with the chase. Why did the adult bear flee from a yearling?! I've watched courting pairs softly wrestle and then play peek-a-boo on opposite sides of a log, with the female repeatedly climbing up on the log and reaching down and poking the male, seemingly saying "Hey, pay attention to me," whenever he seemed distracted for too long. I've watched bears drink out of brackish water and wondered how are they handling drinking salty water on a daily basis? I watched bears on the tidal flats pacing the water's edge, wondering what they were doing, only to finally find after watching for many hours, that they were fishing for flounder. 
I've seen the look in a sows eyes quickly harden as she lost her two yearling cubs on the beach, only to see the expression soften as they reappeared from where they had been hiding and returned to her. I've collected sedge samples and wondered how the heck does a bear gain 100 pounds eating this stuff? I was there for the first precious appearance of spring cubs in the Hallo Bay meadows. 
Amongst all the amazing things I've seen, I'm also starting to piece together the science part of why I'm out there, which is exciting, too. In general, I've been surprised by the small number of bears I've seen clamming at Hallo Bay, and I'm still not sure why that is.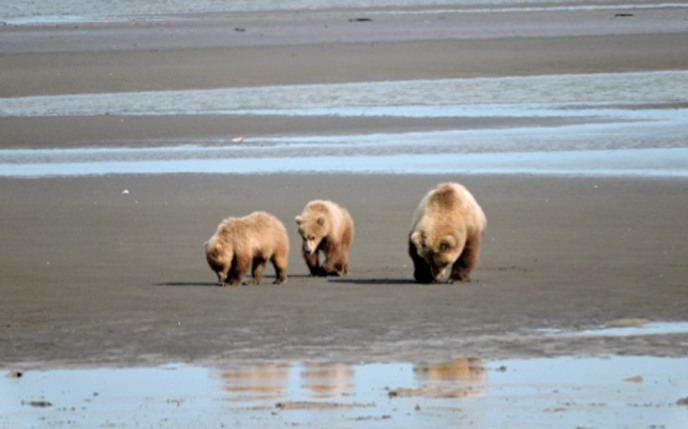 Many bears visit mud flats exposed at low tide to dig for clams. J. Erlenbach photo.
During my first observation session I conducted 67 hours of intertidal scans during low tide and had 11 counts of bears clamming during those scans. Conversely, I had 292 bear counts in the sedge meadow during the same times. Although those numbers don't represent unique bear observations (some animals were recounted during multiple scans during the same day as well as recounted in scans on different days), it does give you some idea of how bears are spending their time. I'm excited to get back out and see what the bears have been up to, and to see how the addition of salmon to their diets might change how bears use the sedge meadows and clams. I'm sure the next observation session will bring even more unique experiences and questions, and will hopefully provide a few more answers, too.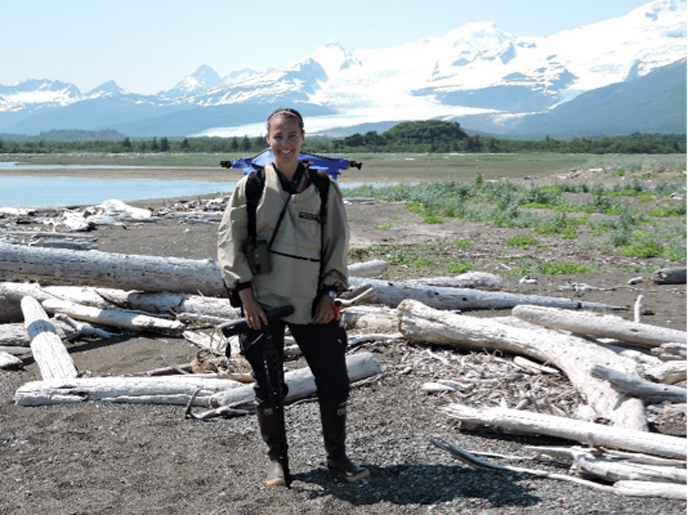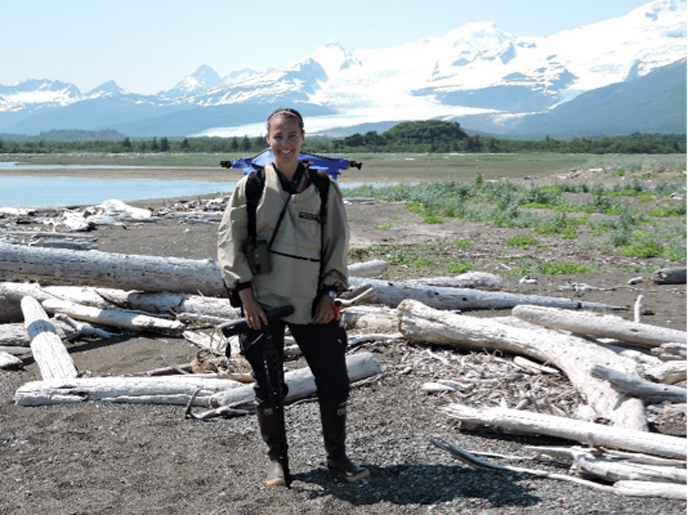 Joy Erlenbach is a doctoral candidate from Washington State University in Pullman, Washington. She will be spending the next several years working in Katmai National Park studying bear ecology.