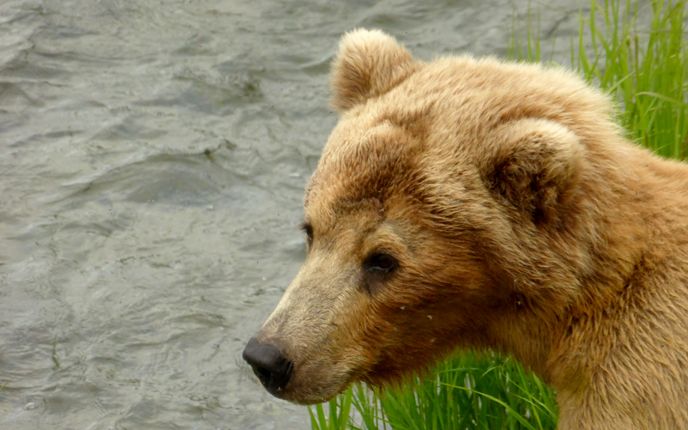 130 Tundra was found dead along the Brooks River last week. She was a favorite bear of many bearcam viewers. (NPS/M. Fitz)
July 1 was a busy day at Brooks Camp. Late in the evening, while many rangers were still dealing with 402's yearling cub in a tree at Brooks Lodge, another ranger discovered a dead bear near the cut bank on the Brooks River. The cut bank is located about halfway between Brooks Falls and the lower Brooks River. After looking at the photos of the bear and noticing what appears to be a scar over the bear's left eye, I suspected that the dead bear might be 130 Tundra. Because this bear has not been observed along the Brooks River in the past week, I am now convinced that she is the bear in the photo. A photo of the dead bear is linked below.
Here's what we know by examining the bear:
1. 130 likely died within 24 hours of being discovered.
2. She had been fed on by another bear.
3. She was likely killed by another bear.
Here's what we don't know:
1. Which bear killed 130.
2. The circumstances that led to her death.
Without witnesses, there is no way to determine the events that led to her death. When I last saw 130 Tundra, she appeared to be a healthy bear. I did not notice anything unusual about her behavior or physical appearance.
National parks like Katmai protect not only nature's wonders, but also its harsh realities. The return of salmon marks the season of plenty for bears, but life along the river is no game for these animals. Each bear you see on the bearcams is competing with others to survive. 130 apparently encountered a competitor that she couldn't overcome or avoid. 130 was apparently a healthy young adult bear who, I assumed, would grow into a large mature bear. Assumptions can be and often are wrong, but you can never be wrong about the hard lives that bears lead.
Here's a link to a photo of 130 on the night she was found: https://www.flickr.com/photos/katmainps/14600150792/.