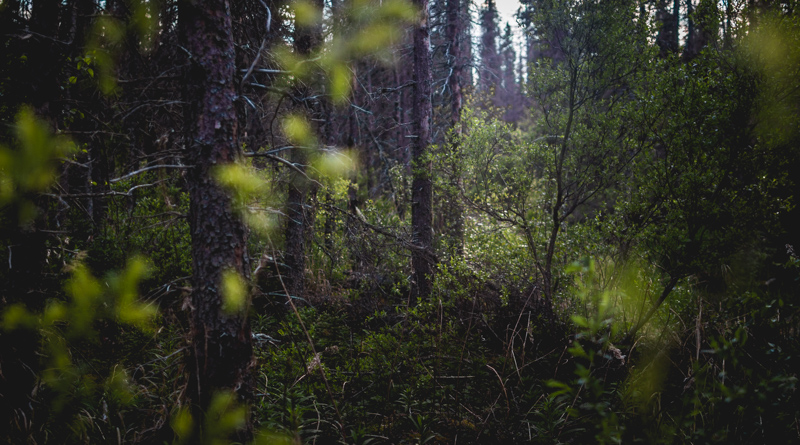 The dark forest along the Brooks Falls trail. Photo by NPS/Daniel Lombardi
Dark clouds grey and black press down on dead spruce trees and turn over in a slow boil that fills the sky. The air is thick with misty rain and the deep thunder of Brooks Falls. I follow a faint trail and shout out loud every few moments in attempt to alert any nearby bears to my presence. The last thing I want to do is surprise or frighten a bear (almost all Brown Bear attacks are defensive in nature) but I'm not expecting to see anything. This is my first week here and only a few bears have been sighted so far, mostly outside camp, and from far away.
The seasonal park rangers have spent the past few weeks at Katmai headquarters in King Salmon training and preparing for the season ahead when people, salmon and bears will descend on Katmai National Park en mass (peaking in July). Now in Brooks Camp, I've been working with Ranger David and others to prepare for my role as Katmai's new Visual Information Specialist. I will be helping manage the Bear Cams, social media, this blog, and more. 
The trail winds around fallen birch and grass tall enough to polish my belt. I haven't heard or seen a human in several hours. The river is only twenty five yards ahead of me as I round a thick clump of trees and glance up to take in my first view of the falls. But I don't see the falls, I only see a hulking mass of a brown bear at the edge of the river. Its coat is a mix of dark brown and wet black. On all fours its shoulders stand about equal to mine.
Time slows. I feel my adrenal glands release a mix of hormones into my blood. My stomach drops and a lump forms in my throat, blood has moved away from my digestive system, my body is ready for fight or flight. 
Growing up in Montana and working many seasons for Grand Teton National Park in Wyoming I have seen many bears, brown and black, in my life. I have even had quite a few close encounters. Before moving here I expected the salmon and the volcanos to really capture my interest but I wasn't sure that I'd be all that moved by the bears. I was wrong and this is the biggest bear I've ever seen. 
My heightened senses immediately register the wind direction. This bear can't smell me and it's not looking toward me. I'm shouting out "Hey bear!" but the thunder of the falls is all either of us hear. Park rules say I need to be fifty yards away from this animal. I say, if it suddenly notices me and perceives a threat, fifty yards will be much too close. 
I side step through thick vegetation as quickly as I can, stumbling over grass, trying to not run, if the bear sees any frantic movement it could trigger a defensive or predatory instinct. I head toward the falls platform one hundred yards away. I keep my eyes on the animal as I move but with only fifteen yards to safety I break this cardinal rule and look away as I scramble onto the platform. 
Feeling slightly safer from my elevated perch I run to the railing and look down for the bear but it's gone. Needless to say, I'm thrilled be a ranger here in Brooks Camp and I can't wait to share stories about Katmai with all of you this summer. 
-Ranger Daniel