The Brooks River is well known for its bear viewing opportunities. Each summer, people come from all over the world to view brown bears in a pristine environment. Those who visit the Brooks River in August, however, may not see many or any bears. 
Bear use of Brooks Falls is greatest during the peak of the sockeye salmon migration in July. The lower half of the Brooks River is most popular with bears in September or October when sockeye salmon are spawned out, dying, and easier to catch. In contrast, August sees a lull in bear activity along the Brooks River. Why is there a gap in bear activity?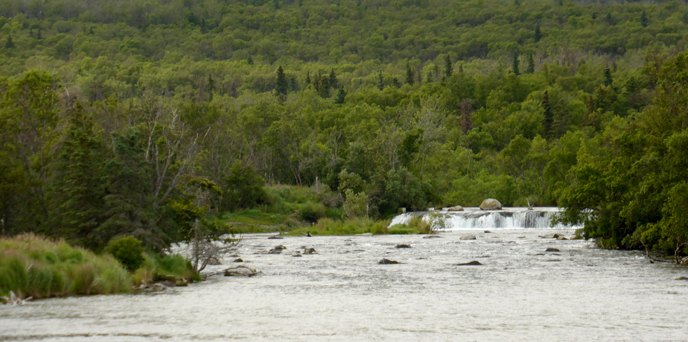 The Brooks River is often empty of bears in mid August. (NPS/M. Fitz)
Brown bears can range over large areas in pursuit of food. The Brooks River sockeye salmon run is unique from neighboring creeks. It starts early, has great longevity, and the fish turn from bright silver to bright red at a slower rate. The bears that frequent the Brooks River during peak times of July and September seek out the low-energy-output, high-energy-intake means of fishing throughout the summer. August along the Brooks River is time when fish are still energetic and exist in relatively low densities. In August, smaller streams in the area with salmon runs and higher overall densities of salmon attract a bear's persistence.

Bear viewers at Brooks in the month of August may be rewarded for their patience and persistence. There are many days, especially in mid-August when no bears are seen on the Brooks River, but some bears that frequent the Books River in August are intimately known and recognized by visitors. Although he has not been seen this year, bear 489, better known as Ted, has been a favorite among August visitors in recent summers. He is easily recognized for a prominent scar on his left backside.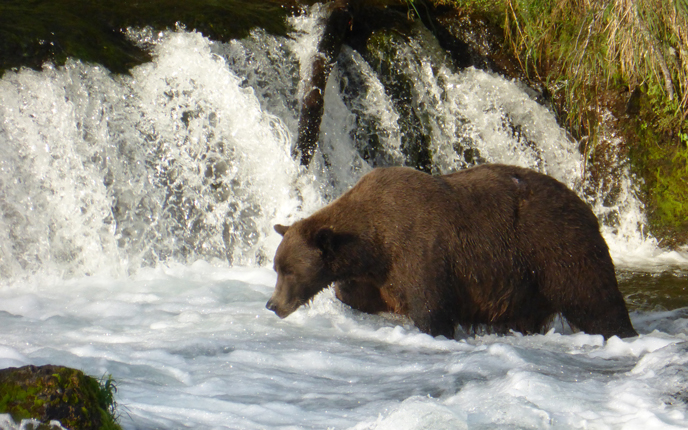 In some years, August fishing in the Brooks River can be good enough to keep 489 Ted around. In 2014, that doesn't seem to be the case. (NPS/M. Fitz)
This summer, a young subadult bear recently numbered 500 became an early August sensation. She is a 2.5 year old female in her first summer alone. Her playful attitude and juvenile habits like bouncing on trees, chewing on sticks, and chasing gulls earned the affection of visitors. Also, her speedy laps around the lower river inspired the nickname Indy (500).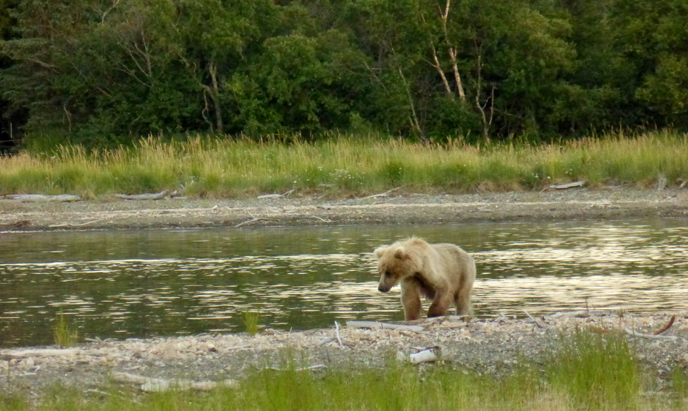 Bear 500 hasn't been seen on the Brooks River in over a week, but this young subadult was able to successfully fish the river in early August. (NPS/M. Fitz)
Neither she nor any other bear has been using the Brooks River with any regularity over the past two weeks. Yet, people who come to Brooks Camp in August may become acquainted with an individual bear's story day after day sighting, after sighting. Therefore, the story told back home is a personal one rather than one full of numerous fuzzy-brown strangers.