Each spring, I have questions floating around in my head.  As spring wanes and summer approaches I wonder, what stories will unfold along Brooks River this summer? Which bears will have cubs? Which bears will maintain dominance along the river? Which will survive and endure another year of hardships in the bear world? Which will become casualties?
One story from 2014 already added another chapter. Yesterday, 435 Holly and her two cubs made an early season appearance at the mouth of Brooks River. This family gained plenty of attention last summer when a then yearling cub was abandoned and subsequently adopted by 435 Holly.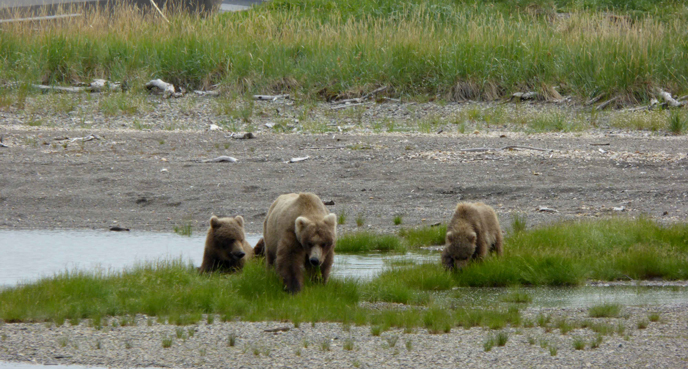 435 Holly (center) walks along Brooks River with her adopted cub (left) and biological cub (right) on June 2, 2015. NPS/M. Fitz.
I received many questions about this family. I was asked one question quite often—since the adopted cub is a year older than her biological cub, will she drive it away in the spring? Last summer, I was not able that question with 100% certainty. Adoption in bears has been documented before, but most of these records simply note that an adoption occurred. Researchers didn't elaborate on the behavior of the adopted cub within the litter or with its new mother. It has never been observed along Brooks River.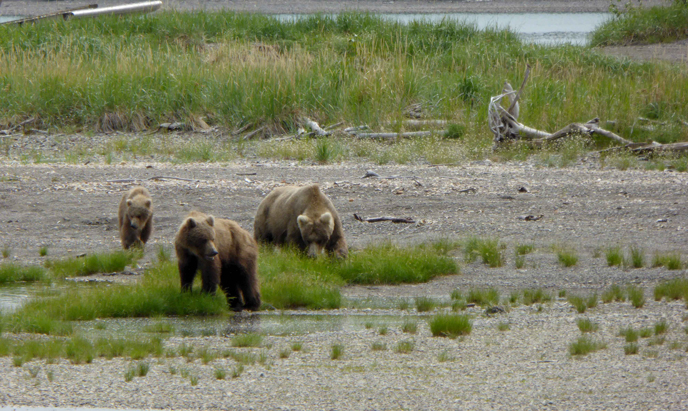 435's adopted cub (now 2.5 years old) stands in front of 435 (right) and her yearling (left). NPS/M. Fitz.
Mother bears hibernate in the same den with their cubs, so we can assume that 435 did the same. In Katmai, bears keep their cubs for two to three summers, hibernate with them one more time, and then drive them away in the following spring. Presumably, 435 is treating the adopted cub (which is now two and half years old) like her biological cub. If 435 has not pushed both cubs away by June, she's probably committed to keeping them until next spring. It seems that we will have more time to observe the story of this family unfold as spring and summer continue.