Your Safety
Kalaupapa is a remote park on the island of Molokai, filled with cultural heritage and potential hazards. There is no guarantee of your safety. Regulations are strictly enforced to protect you and the park's resources.
Emergency Numbers
Unfortunately, emergencies can happen in the park. If an emergency arises, call 911. You may also contact Kalaupapa NHP Dispatch at 1-877-428-6911 (24 hours) or the Molokai Police Department at 808-553-5355. Please be aware that lack of cell phone reception in the park can make calling for help difficult.
Medical Facilities
There are no medical facilities available in the Kalaupapa Settlement. Any emergency medical response requires a helicopter flight to Oʻahu or Maui. If you have a medical emergency, response time for injuries may take hours. Do not rely on cell reception in an emergency.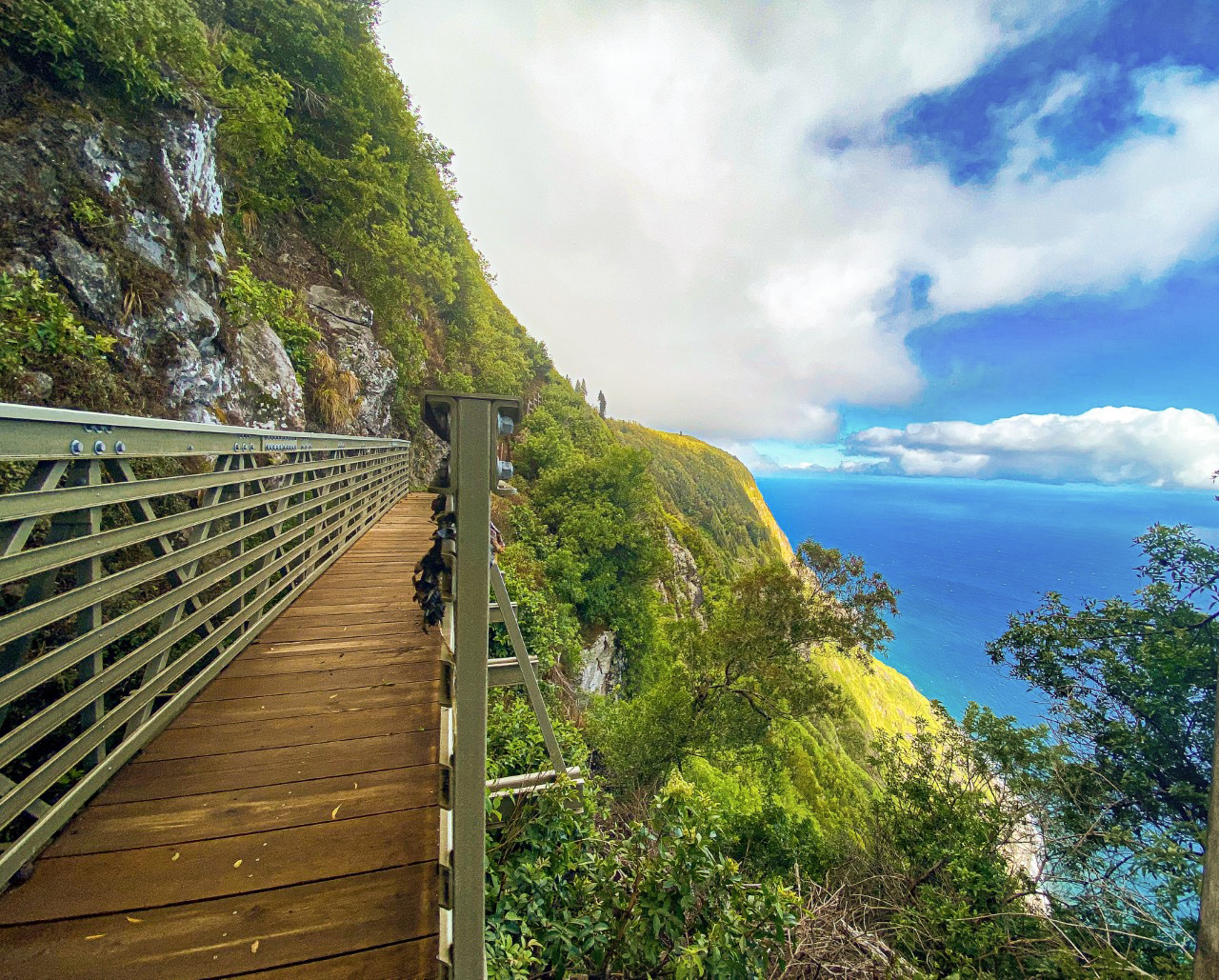 Kalaupapa Trail
The 3.5 miles trail to the park is extremely strenuous with steep, uneven surfaces. Rockslides and mudslides on the trail are not uncommon.Trail conditions can be wet and muddy in the winter and hot and humid in the summer. Footing can be slippery.

A rain jacket, brimmed hat, and sunscreen are recommended. Visitors who hike the trail should carry plenty of water. Hiking the trail is physically demanding and careful consideration should be given to your physical fitness level before beginning the hike. If you are injured on the trail, please be aware that there are no medical services at Kalaupapa. Response time for any injuries may take hours. Additionally, lack of cell phone reception can make calling for help difficult or impossible.
Before You Begin Your Hike
Plan ahead and be prepared. Contact the park to find out trail conditions before hiking. Wear proper clothing and footwear.

Communicate your plans. Tell someone what time you plan to start hiking and what time you will return.

Know your abilities. Some level of fitness is needed to hike the trail. Do warm up stretches before your hike. Take a 10-minute break at least once every hour.

Pack lightly. The less you carry down, the less you have to carry up.

Be aware of your surroundings. Landslides and falling rocks are not uncommon in rainy conditions.

Stay hydrated. Drink water frequently and eat often.

Watch your time. Coming up may take more than twice as long as your descent.

Mules have the right of way
Judd Park
Judd Park is surrounded by steep, eroding cliffs along the ocean. Please use caution in this area and enter eroding areas at your own risk.
Hurricanes
Hurricane season in Hawaii runs from June to November. Any park closures due to hurricanes or tropical storms will be posted on the park website and park social media pages. Further information about hurricanes can be found at NOAA's
Pacific Hurricane Center
.
Tsunamis
Tsunamis can happen at any time. If you are at the park when a tsunami watch, advisory, or warning is issued, follow the instructions given to you. Further information about tsunamis can be found at NOAA's
Pacific Tsunami Warning Center
.
Precautions
Site conditions can vary depending on weather and time of year. Remember to always wear sunscreen and a hat and to drink plenty of water when visiting the park. Watch for falling coconuts within the settlement. Carry insect repellent. Never hike without water; carry two to three liters per person. Watch your footing on uneven and sloped surfaces.


Last updated: December 13, 2022