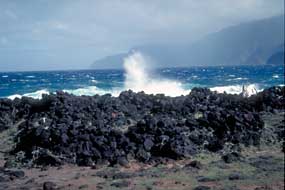 What People Do
Enjoy the scenery. People can take a break from the day's routine to look at some of the most spectacular natural scenery in the world. From anywhere in the community you can look up at the dramatic 2,000-foot pali that separates the Kalaupapa Peninsula from "topside," the local term for the rest of Moloka`i. Or people can walk a few steps to the ocean and enjoy the clear blue waters of the Pacific Ocean crashing against the black lava or white sandy beaches.
Enjoy a slower pace of life. There are many opportunities for solitude in Kalaupapa, often described as looking and feeling like the "old" Hawai`i of 50 years ago.

Feel the mana of the `aina. Kalaupapa is a very spiritual place.
Celebrate Christmas in July. Once a year, usually July, people gather at the dock to watch the year's bulk supplies be unloaded from the barge. Canned goods for the grocery store, furniture, automobiles, washers, dryers, refrigerators, beer for the bar, a year's supply of gasoline, construction supplies; all arrive on the barge.