Brother Joseph Dutton
Early Life
Ira Barnes Dutton was born in Stowe, Vermont on April 27, 1843 to Ezra Dutton and Abigail Barnes. Ira Dutton grew up in a thoroughly Protestant setting and by age eighteen he was teaching Sunday school in Wisconsin and working in a bookstore.
When the American Civil War broke out Dutton enlisted in the Union Army, serving with distinction in the Quartermaster Corp of the 13th Wisconsin Infantry Regiment Infantry under Colonel Maurice Malooney. Although this regiment saw little fighting during the war, Ira showed leadership and administrative skills. As quartermaster, one fellow officer remembered him as having "a rare gift for business." During the war Dutton married, but the relationship proved to be tragic, "one of those things I have tried to forget" (he never mentioned her name). Friends warned of her reputation for infidelity, but Ira had hoped to change her. A shopaholic who left him broke, she soon ran off with another man. Dutton seemed to hope she might return; he didn't file divorce papers until 1881.
After the war he stayed in the South, volunteering to find the dead that were scattered on the battlefields and bring them to a common burial site, which eventually became the National Cemetery. Later, he oversaw a distillery in Alabama before working in Memphis on the railroads. In 1875, he joined the War Department settling claims against the government. Successful in every field, he was nevertheless a functioning alcoholic. In the daytime, he was a solid citizen, but he spent his evenings with "John Barleycorn," although "I never injured anyone but myself." He was very patriotic and realizing that he was heading into oblivion, he took a vow in 1876 to never touch a drop of whiskey again and he kept that vow for the remainder of his life. It was during this time that he also experienced a spiritual transformation. While he fell away from religion during the war, he became interested in Catholicism through the influence of Catholic friends.
The Search for Atonement
Wanting to do penance for his "wild years" and "sinful capers," Dutton sought atonement for his transgressions and became a convert to the Catholic faith. After studying the catechism for a month, he was received into the Catholic Church on April 27, 1883, his 40th birthday. He changed his name to Joseph, his favorite saint, not realizing that eventually he would meet another Joseph who would change the course of his life. Dutton entered into the Trappist Monastery at the Abbey of Our Lady of Gethsemani in Kentucky. After two and a half years of strict discipline, fasting and silence, he realized that this was not his true vocation and he left the monastery with the blessing of the Abbot.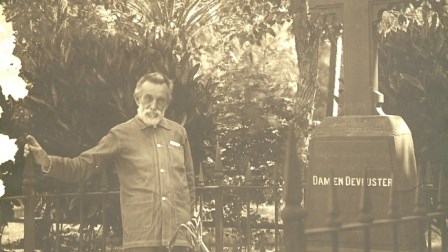 The Call to Kalaupapa
After learning about the plight of Father Damien, he knew his calling was to serve this heroic man. At age 43, he gave away all of his possessions, boarded a steamship to Hawaii and arrived at Kalawao in July 1886. Without any request for recompense, he offered his help to Father Damien. For almost two years he worked side by side with Damien, helping with building projects and caring for the sick and suffering. "Every day," one biographer writes, "he marveled more and more at the courage he saw around him — bravery, he often said, much greater than in the war he had been through." He made a difference. Before Father Damien's death in 1889, Father Damien said: "I can die now. Brother Joseph will take care of my orphans."
After Damien's death Dutton founded the Baldwin Home for men and boys with financial assistance from Henry Perrine Baldwin. Dutton stayed on Molokai for the rest of his life, spending 44 years caring for young boys and men suffering from the effects of Hansen's disease. He became widely known by many distinguished figures in the United States and other countries, including President Woodrow Wilson. President Theodore Roosevelt sent the Pacific Fleet to pass Molokai and dip their colors in salute to this heroic patriot.
Brother Dutton never contracted the disease during his 44 years working at the Kalawao leprosarium. He accepted no pay and directed that his military pension be given to the monks at Gethsemane. He died March 26, 1931 and was buried in the grave next to St. Damien at St. Philomena Church, Kalawao. Before his death on March 26, 1931, he said: "It has been a happy place — a happy life". The Jesuit magazine America noted: "Virtue is never so attractive as when we see it in action. It has a power to believe that we too can rise up above this fallen nature of ours to a fellowship with the saints."
Last updated: October 26, 2022