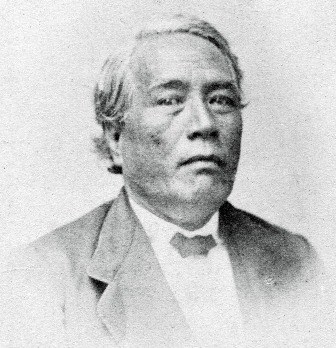 Jonathan Napela was born September 11, 1813 to Hawaiʻiwaaole and Wiwiokalani. His father descended from Kuahaliulani, one of the numerous sons of Kekaulike, King of Maui at the beginning of the 18th century. Napela was educated at Lahainaluna School. He was trained as a lawyer and served as a judge in Wailuku, on the island of Maui.
He converted to The Church of Jesus Christ of Latter-day Saints and was removed from his judgeship. In the words of Andrew Jensen, Napela "did splendid missionary work for the Church." He was specifically sent on a mission in 1853, but as was common in the early church spent much of his time preaching the gospel. Starting in January 1852 Napela began working on translating the Book of Mormon into the Hawaiian language. Napela was a vigorous preacher of Mormonism in the Hawaiian Islands.
In 1873, Napela's wife Kitty Richardson contracted leprosy and he went with her to live at the Kalaupapa Leper Colony on Molokai. His wife was the only female of mixed Hawaiian and European descent admitted to the colony that year. Napela was appointed superintendent of the leper colony but soon ran into trouble with the board of health because of his unwillingness to enforce a rigid segregation of patients and non-patients. For the rest of his life he presided over the Latter-day Saints at that location. He died of leprosy on August 6, 1879.
The Hawaiian Studies Center at Brigham Young University Hawaii is named after Napela. In 2010 the Roman Catholic Church presented the Polynesian Cultural Center with a plaque commemorating Napelaʻs cooperation with Saint Damien.