Lakebed Rehabilitation Project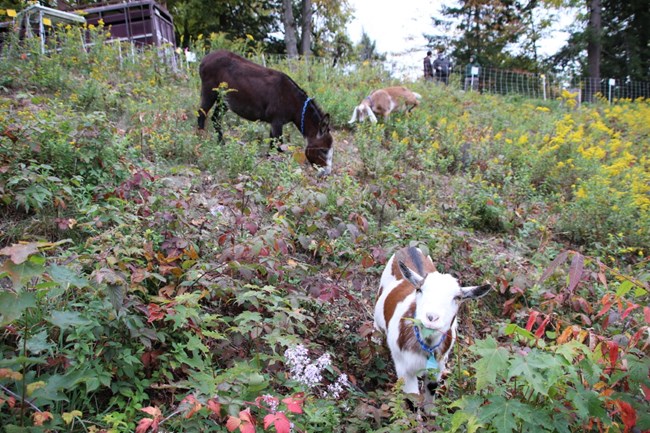 The Lakebed Rehabilitation Project at Johnstown Flood National Memorial started in January, 2020. One of the goals of the project is to restore the view to what the lakebed looked like shortly after the dam broke on May 31, 1889. This area was cleared about thirty years ago, but vegetation has since grown back.
In January, 2020
National Park Service Wildland Fire and Avation
staff began to clear out vegetation in the lakebed using a masticator machine. Johnstown Flood National Memorial maintenance staff has done some manual clearing, however there are many places that machine and man cannot clear with safety.
In fall 2020, Allegheny Goatscape, based out of Pittsburgh, PA provided a
herd of twelve goats
, to eat vegetation at the South Abutment.
On June 29, 2021 a herd of twelve goats
returned to the park
from Allegheny Goatscape. This time, they ate vegetation near the North Abutment. Park staff and volunteers once again helped care for the goats by providing water to the herd daily. The goats ate approximately one acre every two weeks. The goats departed in September 2021.
Goat videos:
Goats assist with the lakebed project
Goat departure and overview
Russell Tree Experts
, based out of Ohio, were on site to clear areas of the lakebed. This portion of the project included mechanical clearing of trees in the lakebed.
The Lakebed Rehabilitation Project will continue in 2022.
Last updated: August 6, 2022