Thomas M. Carnegie (1843-1886)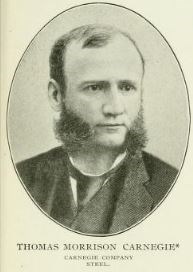 Thomas Morrison Carnegie was born on October 2, 1843, in Dunfermline, Scotland. Thomas was the younger brother of Andrew, also a member of the South Fork Fishing and Hunting Club. Once in America, Thomas attended the public schools as opposed to entering the work force. The family was able to pay for his education because of the earnings of Andrew and their mother. During his life, he mostly worked alongside Andrew in some way; early on he became the secretary and telegrapher to Andrew.
Thomas married Lucy Coleman, daughter of Andrew's friend and business partner, William Coleman. Lucy and Thomas had nine children: William Coleman Carnegie, George Lauder Carnegie, Nancy Travillo Carnegie, Frank Morrison Carnegie, Andrew Carnegie II, Florence Nightingale Carnegie, Thomas Morrison Carnegie, Jr., Coleman Carnegie, and Margaret Carnegie.
In 1859, Pittsburgh businessmen Tom Miller, Andrew Kloman, and Henry Phipps entered into business together to take advantage of increasing government orders with the advent of the Civil War. However, the three became embroiled in disagreement. Andrew Carnegie was asked to be an intermediary and broker a deal. Tom Miller, who Andrew thought had a short temper, was asked to bow out of the deal, leaving just Kloman and Phipps to become partners. When future South Fork Fishing and Hunting Club member Henry Phipps, who went by Harry, did not have the $10,000 to buy into the partnership, Tom Carnegie stepped up to supply the money. In actuality, the money was supplied by Tom, but borrowed from Andrew.
Soon after, Andrew entered into business with Tom Miller forming the Cyclops Iron Works. Eventually, Cyclops overtook Kloman and Phipps forming the Union Iron Mills. Tom Carnegie was made the vice-president of the company. Andrew had a way of grooming Tom for business by putting him in important roles. "'The Carnegie family, my boy are destined always to be poor,' he [Andrew] wrote Tom later that summer or in the early fall, after receiving from him a statement of accounts, 'but I am poorer than I expected in $8000 in debt. We must work like sailors to get sail taken in.' He directed Tom to sell some of the shares in an iron company, at least half their 'locomotive stock,' one third of their investment in real estate, their Pioneer Coal stock, and, if Tom could sell above 'par,' some Union Telegraph and Lochiel Iron stock. 'Few things, my boy, hold on to C.T. [Central Transportation Company, which had absorbed the Woodruff sleeping car company], and Adams, UIM [Union Iron Mills] and Keystone Bridge, and Freedom Iron. They are pets, family treasures which I cannot part with.'" (David Nasaw, Andrew Carnegie (New York: Penguin Books, 2006), 96)
By 1867, Tom and Lucy had moved into the Carnegie family estate at Homewood since Carnegie was on the road so much. In 1873, during one of Andrew's stays at Cresson, Tom and Lucy visited him there for a few days.
Andrew established the Edgar Thomson Works in Pittsburgh in honor of his friend J. Edgar Thomson, the first president of the Pennsylvania Railroad Company. Thomas assumed larger control of the company upon Andrews's absence from Pittsburgh and the death of David McCandless and departure of William Shinn. Further, Andrew developed Lucy as a way to honor Tom's wife. Tom came to a point in business where he believed he could make demands of his brother. As Nasaw writes:
As E.T. [Edgar Thomson Works] grew in size and profits, Tom Carnegie and Henry Phipps found themselves devoting more time to the steel concern and much less to the Lucy furnaces and Union Iron Mills. To give both men a larger ownership stake in the steel company commensurate with their added responsibilities, Tom requested and Andrew agreed to consolidate all their enterprises into a new corporation, Carnegie Brothers & Company, Ltd. The new firm, which was organized on April 1, 1881, was as closely held as the old ones had been. Carnegie, who had entered the steel business with a 37 percent interest in E.T. and then bought out several of his partners shares ended up after the consolidation with 54.5 percent of the stock in the new company. Tom Carnegie and Harry Phipps emerged with 17.6 percent each in stock; David Stewart, John Scott, and Gardie McCandless with smaller shares; John Vandevort received 1 percent; and Cousin Dod, who had recently emigrated, 0.6 percent. (David Nasaw, Andrew Carnegie, (New York: Penguin Books, 2006), 209)
In 1881, Tom Carnegie and Harry Phipps entered into an agreement with South Fork Fishing and Hunting Club member Henry Clay Frick for coke. As Nasaw explains:
The deal that Tom Carnegie offered Frick was beneficial for both the coke and the steel companies. Frick needed new capital to expand his holdings-which the Carnegies supplied-in return for a regular and inexpensive supply of high-grade coke The Carnegies purchased a little more than 11 percent of H.C. Frick Coke Company stock. Two years later, they would increase their stake to 50 percent; by 1888, Andrew Carnegie and Carnegie Steel would own 74 percent of the stock in the Frick Company, Frick only 21 percent. (David Nasaw, Andrew Carnegie, (New York: Penguin Books, 2006), 210)
In the early 1880s, the price for rails took a dip. Andrew Carnegie was certain this would mean nothing for his mills and that production of steel rails could continue as planned. However, Tom showed his own command of business acumen. In the November 8, 1883, New York Times, Thomas Carnegie was quoted say that he would "'have to close his works and throw 5,000 men out of employment.'" (David Nasaw, Andrew Carnegie, (New York: Penguin Books, 2006), 249) Thomas was the correct Carnegie brother.
Andrew Carnegie was a big benefactor to the South Pennsylvania Railroad, which he hoped would prove a strong competitor to the Pennsylvania Railroad. In July 1885, a meeting was held between J.P. Morgan, Chauncey DePew, president of the New York Central Railroad, and George B. Roberts president of the Pennsylvania Railroad. A result of this meeting was that the South Penn Railroad was snuffed out before it even was built. According to Nasaw, "George Roberts sent an emissary to Tom Carnegie, who was vacationing at Cresson, with a promise to pay the Carnegies 'cost and interest' if they would turn over all their stock in the South Pennsylvania. Tom contacted Andrew, who agreed to sell his stock, knowing that by his action he was sounding the death knell of the South Pennsylvania." (David Nasaw, Andrew Carnegie, (New York: Penguin Books, 2006), 254)
At a time when things were looking bleak for workers in the steel mills, including those under the control of the Carnegie brothers, Tom received some backlash in The National Labor Tribune, for joining with a group of interested men in creating a winter resort in Cumberland Island, Georgia. It was discovered that the club house was going to cost $50,000 ($10 million in today's money) and Tom was criticized for spending this much on recreation when his steel workers were facing a reduction in their wages
In September 1886, Tom fell ill. Andrew thought he was going to get better. In October, however, as Nasaw writes, "In Pittsburgh, on almost the same day [Andrew] Carnegie was stricken with typhoid, his brother Tom left his office early with what he thought was a minor cold. Thomas Carnegie died of pneumonia a few days later [October 19, 1886]." (David Nasaw, Andrew Carnegie, (New York: Penguin Books, 2006), 285) Andrew was not surprised by Thomas's death. Thomas was a heavy drinker and Andrew figured that his brother would die young because of it. The mother of Andrew and Thomas was not told of Thomas's death, as she was ailing at the same time and those attending to her were worried about what effect the news of Thomas's death would have on her less than stable health.
Source:
David Nasaw, Andrew Carnegie, (New York: Penguin Books, 2006)
Last updated: February 20, 2021