Philander Chase Knox (1853-1921)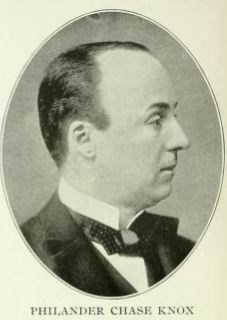 Philander Chase Knox was born on May 6, 1853 to Davd S. and Rebecca Page Knox. He was named after the Episcopal Bishop Philander Chase.

He was a partner in the law firm of Knox and Reed. This is the law firm that successfully defended the Club against any and all lawsuits that resulted from the flood.

Knox was the father of: Rebecca, Reed, Hugh Smith, and Philander Chase Knox Jr., who was born in 1889.

KNOX, Philander Chase, a Senator from Pennsylvania; born in Brownsville, Fayette County, Pa., May 6, 1853 to David S. and Rebecca Page Knox; attended the University of West Virginia at Morgantown, and graduated from Mount Union College, Alliance, Ohio, in 1872; studied law; admitted to the bar in 1875 and commenced practice in Pittsburgh, PA; assistant United States district attorney for the western district of Pennsylvania in 1876; president of the Pennsylvania Bar Association in 1897; appointed Attorney General of the United States in the Cabinet of President William McKinley in 1901; reappointed by President Theodore Roosevelt and served until June 1904, when he resigned, having been appointed as a Republican to the United States Senate to fill the vacancy caused by the death of Matthew S. Quay; subsequently elected to fill the unexpired term and for the full term in 1905 and served from June 10, 1904, until March 4, 1909, when he resigned to enter the Cabinet; chairman, Committee on Coast Defenses (Fifty-eighth and Fifty-ninth Congresses, Committee on Rules (Sixtieth Congress); appointed Secretary of State by President William Taft 1909-1913; again elected to the United States Senate and served from March 4, 1917, until his death in Washington, D.C., October 12, 1921.

When Knox entered the office of Attorney General, he was viewed by many as a corporate lawyer that would advance the interest of massive corporations and was even seen as "Frick's Man", who was fairly instrumental in Knox entering his present position. Knox began his term by quickly attacking the Northern Securities merger, against the judgement and advice of many of the best available lawyers at the time. (Northern Securities was controlled by heavyweights such as J.P. Morgan, J.D. Rockefeller, James J. Hill, E.H. Harriman). Under Knox's guidance the Department of Justice filed suit against Northern Securities under the Sherman Anti-Trust act. The Supreme Court sided with Knox and the Department of Justice and this case proved to be one of the most monumental victories the government achieved and essentially put teeth into the Sherman Anti-Trust Act, which had been largely viewed as a letterhead with little clout. Because of this Knox went from being viewed as a corporate lawyer to a 'trust buster'. Although Theodore Roosevelt takes much of the credit for his role in preventing trusts from ruining the open market, it was largely Knox's work that led to the success that Roosevelt claimed.

In addition to politics, he was a member of the Duquesne Club. Along with Jesse H. Lippincott, he was director of the Fifth National Bank of Pittsburgh. Henry Clay Frick, Andrew Mellon, and Knox were directors of the Pittsburgh National Bank of Commerce.

He earned the nickname "Sleepy Phil" for his proclivity to fall asleep during board meetings.

Upon his death, he was buried at Washington Memorial Chapel Churchyard, Valley Forge, Montgomery County, PA.

Last updated: March 20, 2018