Oliver McClintock (1839-1922)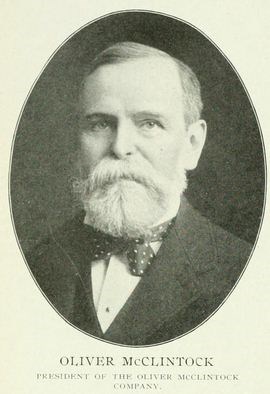 Oliver McClintock was born October 20, 1839, the eldest of seven children born to Washington and Ella Thompson. He graduated from Yale in 1861. He served as corporal in Pennsylvania Company D, 15th Pennsylvania Emergency Militia, which saw action during both of Robert E. Lee's invasions of Pennsylvania.
He was president of O. McClintock and Company, a mercantile house. His brothers Frank T. and Walter Lowrie, were also associated with the business. Additionally, he served as president of the YMCA; as an elder in Second Presbyterian Church; and as a trustee of the Western Theological Seminary. He and his brother-in-law A.H. Childs were founders of Shady Side Academy. He was a director of the Chamber of Commerce, member of the Duquesne Club, and the University Club of New York.
He married Clara Courtney Childs on June 7, 1866. Their children included: Norman McClintock (June 13, 1868); Walter McClintock (April 12, 1870); Emma Childs McClintock (September 25, 1874); Harvey Childs McClintock (July 16, 1882); Jeannette McClintock (April 10, 1886); and Elsie Thompson McClintock (April 19, 1886). Jeannette and Elsie were twins. Oliver McClintock died on October 10, 1922.
Last updated: February 7, 2022