Maxwell Kennedy Moorhead (1831-1897)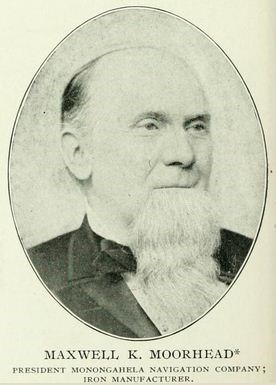 In an interesting twist of irony, Maxwell's father, James, was awarded a contract, along with Hezekiah Packer of Williamsport, PA, to build the South Fork Dam and Western Reservoir for the Pennsylvania Main Line Canal. Maxwell attended the Western University, now, the University of Pittsburgh, then assisted his father at the damsite. While never really explored, this fact could shed some light on the "who knew what and when" argument about just how culpable the Club was in the Johnstown Flood.
The following is from, Historic Structures Report: Appendices: Clubhouse, Brown Cottage, Moorhead Cottage, and Clubhouse Annex:
"Maxwell K. Moorhead was born September 6, 1831 in Huntingdon, Pa. to Gen. and Mrs. James Kennedy Moorhead. The family moved to Pittsburgh in 1836.
Maxwell K. Studied at Western University and afterward became employed with Philip and Henry Graff, old time merchants of the city....Subsequently, he became involved with important railroad contracts in eastern Pennsylvania. He lived in Williamsport, where he met Mary Heberton whom he married in 1855.
They returned to Pittsburgh and Maxwell K., in 1856, became a partner with Dewees Wood and George F. McCleane in the iron business firm of Wood, Moorhead and Company in McKeesport. In 1859, the business, then called Moorhead and Company, moved to Soho where Soho blast furncace, sheet and rolling mills and galvinizing works were built. Maxwell K. continued in active business until 1894 when Moorhead and Company became the property of Pittsburgh Steel and Iron Manufacturers.
In addition, Maxwell K. was involved in other business in the city. At the death of his father, who was foremost in slackwatering the Monongahela, Maxwell K. became president of the Monongahela Navigation Company, a post he held until his death. He was also the director of Pittsburgh Insurance Company and Exchange National Bank. In the Civil War, he was quartermaster of the Thirteenth Regiment, Pennsylvania Volunteers.
Maxwell Kennedy and Mary (Heberton) Moorhead had one child, a daughter, who died around 1882 and two grandchildren; William Halsey Moorehad and Mrs. Bruce (Marie H.) Millard. Maxwell K. died on January 13, 1897."
Maxwell Kennedy Moorhead maintained Lot No. 17 at the South Fork Fishing and Hunting Club. The Moorhead Cottage that once graced the shoreline of Lake Conemaugh was destroyed by a fire in the early twentieth century.
Last updated: November 7, 2017