Louis Semple Clark (1866-1957)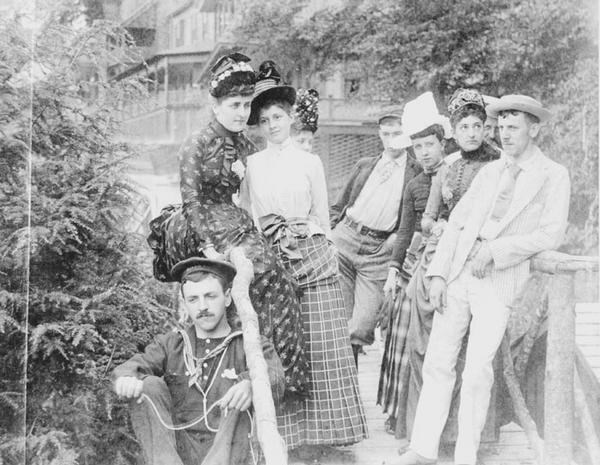 Louis Semple Clarke was born in 1866, son of Charles John Clarke, also a member of the South Fork Fishing and Hunting Club. He was interested in photography and took many of the first person or primary photographs of the Club. At the time of the Johnstown Flood, he was 22 years old.
Louis had an affinity and aptitude for anything and everything mechanical. At the Club, he developed a watercraft called the Catamaran that had a searchlight on the front. As the craft was powered by electricity, it quickly attained the nickname "Sparky" or "Old Sparky." In addition to the South Fork Fishing and Hunting Club, Mr. Clarke was also a member of the Duquesne Club. According to David McCullough, immediately after the flood, "Young Louis Clarke next told a correspondent for the New York Herald that there was great doubt 'among the engineers' who had examined the reservoir whether, after all, it had been that particular dam [the South Fork Dam] which broke." (McCullough, The Johnstown Flood, 242)
The following is an obituary for Clarke that appeared in the Buffalo Courier Express in 1957:
"Louis S. Clarke, 90 auto industry pioneer who founded Autocar Truck Co. and replaced chain-drive with the enclosed shaft, died today.
Clarke made his first major contribution to automotive progress in 1896 when he made a sparkplug, modeled on one developed in France, which became a longtime industry standard.
The same year, at Pittsburgh where he was born, Clarke built his first gasoline-driven automobile-the three wheel 'Autocar No. 1' which now is a Smithsonian Institution exhibit.
Clarke founded the Pittsburgh Motor Vehicle Co. in 1897. Two years later its name was changed to the Autocar Co., and in 1900 he moved plant and home to Ardmore, Pa., where he lived until the 1952 death of his wife Ormsby Phillips Clarke. [sic]
Clarke retired from active service with his heavy-duty truck manufacturing firm in 1929, but returned to Autocar to help boost World War II production of armored half-tracks and other battle vehicles. He retired again at the war's end.
Clarke, born of an industrial family which was among Florida's early visitors, was a winter resident of Palm Beach since 1892. He also was one of the city's civic pioneers.
It was on the porch of the Palm Beach home, 'Dulciora,' which Clarke built, that plans for municipal incorporation were formulated in 1911.
Clarke built an electric motor and generator at the age of 19 and an electric boat at 21. His development of the auto drive-shaft in 1901 was spurred by mechanical troubles encountered with chain drive during a New York City-Rochester (N.Y.) road race of primitive motor cars. He also developed double-reduction gear drive and the first circulating oil system for motor cars. He settled down in 1908 to production of heavy trucks."
He married Mary Ormsby Phillips (1870-1952) on January 14, 1891. The ceremony took place at Trinity Church, Pittsburgh. About 1900, the Clarke's moved to the Main Line area of Philadelphia. He died in 1957 and both he and his wife are buried at Allegheny Cemetery, Pittsburgh.
Last updated: March 10, 2017