Lewis Irwin (1846-1918)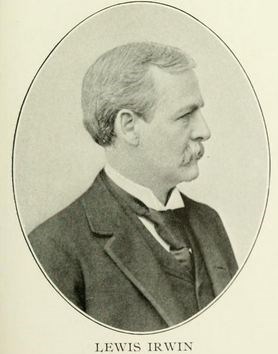 The Irwin family is/was one of the oldest families in Pennsylvania. Lewis Irwin was born on June 10, 1846, to Henry and Elizabeth Peterson Irwin of Allegheny, PA.
He married Emma Riddle and they resided at 805 Western Ave, Allegheny, PA. Their children included: Gertrude Irwin, Ida Irwin, and David King Irwin. He was the brother-in-law of South Fork Fishing and Hunting Club member Henry Holdship. Holdship married Irwin's sister Maria.
Irwin was involved in the oil trading business. In 1865, he partnered with Henry Holdship in the firm, Holdship & Irwin. They remained in business together until 1886, when Holdship retired.

Beginning in 1865, he became part of the Enterprise Base Ball Club, and served as vice-president.
According to David McCullough, the Irwin family was at the South Fork Fishing and Hunting Club when the dam broke, having gone there to celebrate the Memorial Day holiday.

He died on May 6, 1918 and is buried in Allegheny Cemetery.
Last updated: April 1, 2017