Joseph Ryan Woodwell (1842-1911)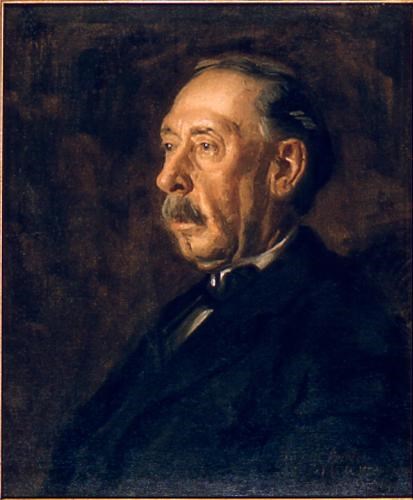 South Fork Fishing and Hunting Club member Joseph R. Woodwell was the son of Joseph and Joanna Woodwell. He was also the brother of William K. Woodwell, also a member of the South Fork Fishing and Hunting Club. He made his wealth in his father's hardware business, Joseph Woodwell & Co. He married Margaret E.
Joseph R. Woodwell was also director of the Iron City National Bank, the Bank of Pittsburgh, and the City Deposit Bank. However, Joseph's true love seemed to be art. He was a member of the Scalp Level Artist School, an en plein air art school, founded by George Hetzel, that used the greater Johnstown area for inspiration. The following article is from the Carnegie Institute:

"Woodwell's father, Joseph Woodwell (b. 1807) was a New York cabinetmaker and a carver of figures on ships' prows and garden vases. He opened a hardware firm in Pittsburgh in 1847. His son Joseph (born in Pittsburgh on 7 September 1842) began the study of art under George M. Hetzel (1826-1899) and David Blythe (1815-1865). Woodwell was exhibiting his works when he was only seventeen, then his father sent him to Paris. Like pioneer American impressionist Mark Fisher, Joseph was part of Charles Gleyre's atelier, therefore, he would have rubbed shoulders with Renoir, Sisley, Monet, and Pissarro. Although Gleyre insisted on careful, tight drawing, he was more liberal once students had moved on to master painting. During his tenure (1843-64), Gleyre taught students how to execute the ébauche, whose broad effects would be applied to large-scale paintings by Monet and other impressionists. Joseph's other classmates in Gleyre's studio were Pierce Francis Connelly (ca. 1840-1902) and Alfred Wordsworth Thompson (1840-1896), as mentioned by Sellin (1982, p. 12). Woodwell also worked in Barbizon, where he knew Millet and Charles Jacque (1813-1894). Emile-Charles Lambinet (1815-1877) also influenced Woodwell toward a Barbizon direction. Woodwell was back in Pittsburgh in 1865 or 1867, when he was still painting in the dark, Barbizon mode. In Cambria and Somerset counties, Pennsylvania, Woodwell was part of the Scalp Level Group painters who worked in the Barbizon style. Gerdts (1990, vol. 1, pp. 288-89) explains how Woodwell's palette lightened during the summers he spent at Magnolia, Massachusetts, the artists' colony associated with William Morris Hunt. The slight shift in his style occurred in the late 1880s. Gillian Belnap (in Strazdes, 1992, p. 487) cautions that in Woodwell's Boudin-like seascapes, "the fluid brushstrokes, however, have little in common with the fractured strokes associated with impressionist technique." Unlike the impressionists, Woodwell still used the traditional reddish-brown underpainting, which gives an overall tonality, compared to painting on a pure white canvas. Even in the late period, Woodwell remained faithful to the Barbizon aesthetic. Woodwell was active in Pittsburgh's art community. The artist's involvement with the Carnegie Internationals resulted in a portrait of Woodwell by Eakins in 1904. Woodwell also exhibited at the Pennsylvania Academy of the Fine Arts (1861-1910), at the National Academy of Design (1879 and 1880), and at the Philadelphia Centennial Exposition. Four views of Magnolia, Massachusetts (all unlocated) were on display at the World's Columbian Exposition in 1893 and three landscapes appeared at the St. Louis Universal Exposition in 1904. Woodwell was appointed by Andrew Carnegie to acquire works for the Carnegie Museum of Art with the Carnegie Art Fund. Mrs. Woodwell donated her husband's Sand Dunes (1909) to that museum. He died in his native Pittsburgh on 30 May 1911."

Last updated: March 2, 2021