John George Alexander Leishman (1857-1924)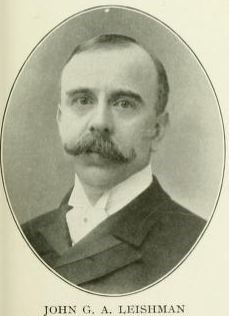 John G.A. Leishman was born on March 28, 1857.

Began his career around the age of 10 as a 'Mud Clerk' for Shoenberger Steel Company. His involvement with Carnegie began in 1884 as a sales agent, and
worked up the ranks to become the president of Carnegie Steel Company.

When Alexander Berkman carried out his unsuccessful assassination attempt on Henry Clay Frick, Leishman attacked and subdued Berkman after he shot Frick three times. Frick survived.

Leishman was actively involved in attempting to keep the peace between Carnegie and Frick; as he attempted to mediate transactions and business between the two moguls when Frick informed Carnegie that Leishman was active in stock speculation. Even though Carnegie was active in stock speculation and trading, he refused to allow his subordinates to partake in this form of business. Frick stuck a deal with Philander Knox to secure the post of Ambassador to Switzerland for Leishman, who accepted the position under pressure from Carnegie and Frick, Leishman accepted the position in June 1897. He would later serve as ambassador to Turkey (1900), Italy (1909), and Germany (1911). Leishman was insrumental in obtaining the release of Miss Ellen Stone while he was serving in Turkey.

Leishman is also the last confirmed owner of the world renowned painting, "Madonna of the Streets."

He died the day before his birthday, March 27, 1924. He is buried in the Cemeterie de Monaco, Monte Carlo, Italy.

Last updated: April 10, 2017