James Hay Reed (1853-1927)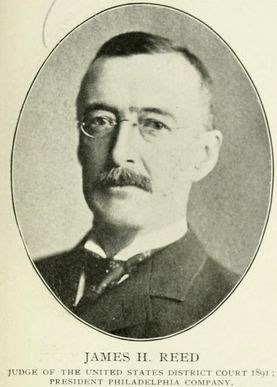 The following is from: Historic Structures Report: Appendices: Clubhouse, Brown Cottage, Moorhead Cottage, and Clubhouse Annex, for the National Park Service:
"James hay Reed, the son of Joseph and Eliza Hay Reed, was born September 10, 1853 in Allegheny, PA. Educated at public schools, he later matriculated at Western University of Pennsylvania, graduating in 1872. Reed then studied law in the office of his uncle, the U.S. District Attorney for Pittsburgh. After passing the bar in 1875, he remained there until his uncle's death in 1877.
In that year, Reed, along with associated Philander Chase Knox, founded the firm of Knox and Reed, which immediately prospered. In 1891, Reed was appointed Federal District Judge for Western Pennsylvania by the then-President William McKinley. After Knox left the firm for a career in government service, the office was reorganized in 1901 as Reed, Smith, Shaw and Beal, with Reed as its senior partner.
In addition to his legal career, Reed was involved heavily in business. He helped organize U.S. Steel, and was a member of its board of directors for twenty years. He was also the president of both the Pittsburgh and Lake Erie Railroad and Union Railway Company, as well as the Reliance Insurance Company of Pittsburgh. Perhaps Reed's most significant achievement, however, was his role in settling the bitter dispute between Andrew Carnegie and Henry Clay Frick in the late 1890s.
Devoted to philanthropy, Reed held a number of charitable positions. He established the Pittsburgh Skin and Cancer Foundation, and was a director of the Western Pennsylvania Hospital. He was also a board member and treasurer of Carnegie Technical Institute and the Carnegie Hero Fund Commission, serving in those positions until his death on June 17, 1927.
Married to Katharine J. Aiken in June 1878, Reed was the father of four children: Joseph H., David A., James H. Jr., and Mrs. Katherine Frazer."
Last updated: February 26, 2015