James Ernest Schwartz (1843-1900)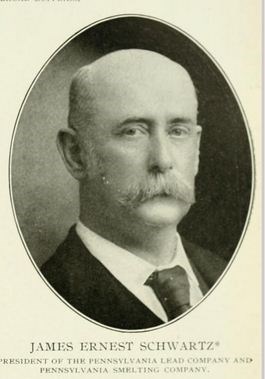 The following is from: Historic Structures Report: Appendices: Clubhouse, Brown Cottage, Moorhead Cottage, and Clubhouse Annex, for the National Park Service:
"James Ernest Schwartz was born in 1843 in Allegheny. He was the son of Jacob L. Schwartz, a leading business man of that era in the twin cities and a member of the lead manufacturing firm Fahnstock, Schwartz, and Hazlett. James E. acquired his business training from his father and worked for him in the lead business. After Jacob L.'s death, James E. dissolved his father's firm and went into the lead business himself.
At the time of his death, James E. Schwartz was president of the Pennsylvania Smelting Company of Utah and Pennsylvania Lead Company of Pittsburgh. For a while, also, he was a director of the Bank of Pittsburgh. His religion was Presbyterian and he was a member of the Third Presbyterian Church from early on in his life. He was also a member of the Duquesne Club.
James E. fought in the Civil War as a Lieutenant in the Twenty-second United States Infantry and later in the war he was transferred to the famous Knap's Battery. In the end of the war, he served in the Subsistence Committee to help care for his fellow soldiers. Later in his life, he was a well-regarded member of the Loyal Legion and the Society of the Army of the Potomac.
In 1868, James E. married Emma Nicholson and they had two sons: Frank Nicholson and John Loeser Schwartz. James Ernest Schwartz died at Hotel Bellevue in Dresden, Germany on May 16, 1900. He had gone to Germany in November on the advice of his physicians due to failing health which had begun a year before. Around 1921 his two sons and around 1930 his wife, for unknown reasons, changed their last name to Black."
Last updated: February 20, 2021