Henry Holdship (1833-1897)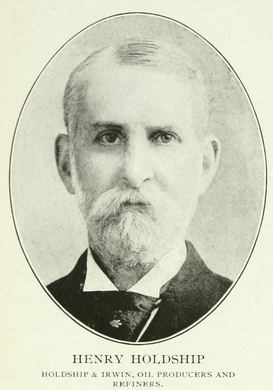 The following is from, Historic Structure Report, Appendices: Clubhouse, Brown Cottage, Moorhead Cottage, Clubhouse Annex, for the National Park Service, p. 393.
"Henry Holdship, the Western Pennsylvania oil pioneer, was born in Pittsburgh on Oct. 26, 1833. The son of successful paper manufacturer, George W. Holdship, Henry entered The Lawrenceville School in New Jersey after years of studying in Pittsburgh. (Curiously, there is no indication that he entered a university).
After the completion of his studies at Lawrenceville, Henry joined the Pittsburgh bank of Palmer, Hanna, and Co. Later, with brother Charles, he left the city to open a small depository in Decorah, Iowa. But his brother's death in 1859 precipitated Henry's return to Pittsburgh where be became secretary to his cousin, Thomas M. Howe, of Pittsburgh and Boston Mining Co.
Holdship tired of his service to his cousin, however, and in 1863, he and his brother, George, began the pioneer operation of oil fields in Newton, Pa. After George's death in 1865, Henry joined with his brother-in-law, Lewis Irwin (Henry married Maria Irwin in 1860), to form the oil company of Holdship and Irwin. Despite attempted encroachments from corporate giant Standard Oil, the new company prospered. By 1879, its output was approximately 5,000 barrels a week and the firm employed fifty men with a payroll exceeding $2,500.
After his retirement in 1886, Holdship became an active patron of the arts in Pittsburgh. He was one of the incorporators of the Art Society of Pittsburgh and was a founder of the Pittsburgh Orchestra.
Henry Holdship died on May 11, 1897. He was survived by his wife, Maria, and three children: Charles Frederick, George Irwin, and Alice Holdship Ware."
Last updated: March 19, 2021