George Franklin Huff (1842-1912)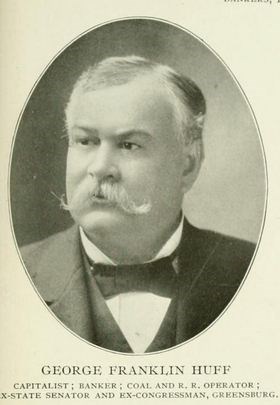 The following is from, Historic Structures Report, Appendices: Clubhouse, Brown Cottage, Moorhead Cottage, and Clubhouse Annex, for the National Park Service:
"George F. Huff was born July 16, 1842, in Norristown, Pa., the son of George and Carolyn Boyer Huff. After attending public schools in Middletown and Altoona[,] Pa., Huff entered the car shops of the Pennsylvania Railroad in Altoona. He quickly learned the trade of car finisher, and after three years was 'highly recommended' to the banking house of William Lloyd and Company in Altoona.
Huff was immediately successful and after only two years, was called upon to establish a branch in nearby Ebensburg, Pa. Later, in July 1867, he founded the firm of Lloyd, Huff, and Co., also known as Greensburg National Bank. The venture was very ambitious, establishing branches in Latrobe, Irwin, Ligonier, and Mt. Pleasant. The panic of 1873, however, wiped out the bank, saddling the firm with a number of debts.
Huff had also been associated with the founding of a number of other banks. In 1871, he helped organize Farmer's National Bank of Greensburg, which was reorganized by an act of Congress into the Fifth National Bank of Pittsburgh. Huff served as vice-president until his resignation in 1876. In 1874, he founded the Greensburg Banking Co., serving as its cashier until 1887. In addition to his banking activities, Huff was also involved with the establishment of numerous coal and coke companies, which were consolidated into the Keystone Coal and Coke Co., of which he was the president.
Perhaps Huff's greatest achievement, however, was his political career. Elected a delegate to the 1880 Republican Convention in Chicago, Huff was then a member of the Pennsylvania State Senate from 1884 to 1888. Subsequently, Huff was elected to Congress as a representative of the 21st district in the 52nd, 54th, and 58th-61st Congresses.
Married March 16, 1871[,] to Henrietta Burrell, Huff was the father to eight children, four of whom survived to adulthood Lloyd Burrell, Julian Burrell, Carolyn Burrell, and Burrell Richardson.
Huff died in Washington, D.C. on April 18, 1912."
Last updated: April 1, 2017