Durbin Horne (1854-1916)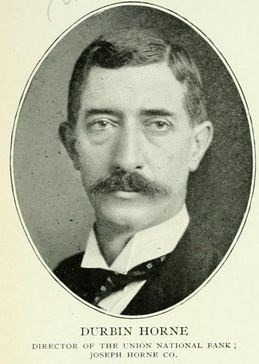 The following is from, Historic Structures Report, Appendices: Clubhouse, Brown Cottage, Moorhead Cottage, and Clubhouse Annex, for the National Park Service:
"Durbin Horne, son of the department store founder Joseph Horne, was born in Pittsburgh in July 1854, just five years after the establishment of the retail chain that bore his family's name. Educated in local public schools, he then entered the Newell Institute before matriculating at Yale University in 1872.
After his graduation in 1876, Horne began to work at his father's store, learning the basics of the business before being admitted as a partner in 1882. Along with his father and partners A.P. Burchfield and C.B. Shea (the brother of the elder Horne's first wife, Mary Elizabeth Shea), Horne oversaw the rapid expansion of the store. In 1892, an additional building was added to the existing structure located at Penn Avenue. Eleven years later, the 'East Shore' Annex further increased the capacity of the Horne's building.
Having survived two great fires and a number of challenges from would-be competitors, the Horne's department store established itself by the turn of the century as a Pittsburgh institution. After the business was incorporated as Joseph Horne Co., Durbin succeeded his father as president, serving in that capacity until 1915.
Horne groomed his half brother, Bernard, as his successor. (Joseph Horne remarried after the 1862 death of his first wife, Mary Elizabeth Shea). After Durbin's death in 1916, Bernard, along with C. Bernard Shea, son of the founder Christian B. Shea, ran the corporation, continuing a union between the two families that would last well into the 1940's."
Like most Club members, Durbin was not at the Club when the dam failed, however three of his family members were and on June 1, 1889, Durbin set off for Johnstown to ensure that they were safe.
Durbin Horne was photographed by Lewis Semple Clarke in a moment of levity. Click on the following link. Durbin is seated at the top of the stairs pointing and with an exclamatory look on his face. http://www.pennhighlands.edu/library/digital/louisclarkesffhc%20075.jpg.

Durbin Horne shared Cottage number two, Lot numbers two and three, with his Uncle C.B. Shea.
Durbin Horne married Mary T. Andrews. He died in 1916.
Last updated: February 20, 2021