Christian Bernard "C.B." Shea (1836-1900)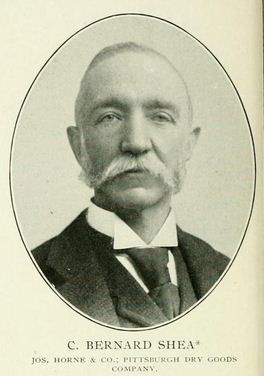 The following is from: "Proceedings & Addresses," Volume II, Part I, Pennsylvania-German Society.
"Christian Bernard Shea was born at Pittsburgh, Penna., on June 6, 1836. He was the senior member of the great dry-goods house of Joseph Horne & Co., and died at his home, Fulton and Fayette Streets, Allegheny, Penna., at 8:15 P.M., on Nov. 18, 1900.
He was the son of John Shea, b. Feb. 7, 1800, d. April 29, 1864, and Susanna Barbara Wolff, b. Jan. 13, 1807, d. June 19, 1886, dau. of Christian Wolff, b. Dec. 6, 1762, d. Feb. 5, 1841, son of John Barnhardt Wolff, b. Jan. 1, 1732, d. Aug 20, 1792, son of George Michael Wolff, b. 1697, d. 1746, son of John George Wolff, b. Aug. 10, 1676.
His ancestor, George Michael Wolff, emigrated to America, in the summer or autumn of 1739, from Neider Hochstadt in the German Palatinate, and went direct to Lancaster County in the Province of Pennsylvania, purchasing a lot of ground in the Tulpehocken region, where his son Conrad was murdered by the Indians during their sudden and bloody maraud of Nov., 1755. After the revolt of the Colonies John Barnhardt Wolff contracted to carry the mail from Lancaster to Philadelphia which work was performed by his son Christian on horseback, once and, later, twice a week. It was this same Christian who, being in Philadelphia when Cornwallis surrendered, carried the news to Lancaster.
His father was a prominent merchant of Pittsburgh in the early days, having a dry-goods store there in 1826, and, at the time of his death, was Collector of Internal Revenue for the district under President Lincoln.
He, himself, was educated in the schools of Pittsburgh, the last one being the old Western University. Before he was fifteen years old he went into his father's store and worked there for some years.
In 1852 he went into the employ of Joseph Horne, who was married to his sister, Mary Elizabeth Shea. A few years later he became a member of the firm, and continued as the financial man of the rapidly growing business until a short time before his death.
Mr. Shea was exceedingly well known in mercantile, art, literary and musical circles, and highly esteemed for his own knowledge of such matters, and the interest he took in many struggling workers. He was an accredited judge of paintings, and in his home he had collected some very fine canvases. In former years he gave much attention to the old Mercantile Library. Mr. Shea's beneficence, taste and advice left a wonderful and lasting impress upon culture in Pittsburgh. He was one of the first backers of musical efforts here, helping to bring Theodore Thomas to the city as the apostle of the Wagnerian cult in music. Mme. Sembrich and other artists were induced to come to this city through his financial aid. He was one of the original guarantors of the Pittsburgh Orchestra. The magnificent festival given April 30 and May 1, 1883, by the Musical Union of Pittsburgh and the Mendelssohn Union of Sewickley, was aided by a regular organization of which Mr. Shea was one of the vice-presidents, and among the noteworthy list of subscribers to the guarantee fund his name also appears. When the great May festival of 1891 was planned, among the notable box-holders was Mr. Shea, with Andrew Carnegie, the late William Thaw, H.C. Frick, and a score of prominent Pittsburghers.
Deceased was one of the original members and a former President of the Pittsburgh Art Society, and always took an active part in its work and advancement. He had one of the largest and most valuable private libraries in the country. It is stocked with rare and old volumes. It was his hobby. A good portion of his leisure time was spent in the examination of catalogues, and following up the sales of old books all over the world.
Mr. Shea was prominently identified with the Methodist Episcopal Church matters in Pittsburgh and Allegheny. He was likewise connected with several of Pittsburgh's largest financial institutions. At the time of his death he was a director of the Bank of Pittsburgh, the Fidelity Title and Trust Co., and the Pittsburgh Dry Goods Co. He was a former director in the Tradesman's Bank, and, in its palmy days, a director of the Peoples' Insurance Co. He was also for many years Secretary of the old Christ Methodist Episcopal Church, continuing a member of its board of Trustees up to the division, when he became a member of the Calvary Methodist Episcopal Church of Allegheny, and had remained as such since then, being President of the Board at the time of his death.
Although of a retiring disposition, Mr. Shea was a most enjoyable and congenial companion. He was without display, but to those whom he knew well he was a good, true and valued friend and by them most highly respected and honored. So retiring and modest was he that in none of the biographical collections does a sketch of his worthy life exist. Few of the many employees knew him personally, but all respected him as a man of business ability and at the same time a kind and considerate employer. He never took part in public matters in the ordinary acceptance of the term, but he was tireless in doing good, bestowing unostentatious charity and giving aid to all endeavors for uplifting the people.
He was an early member of the Duquesne Club, and has held several offices in that organization, having been vice-president for two years. He was also a member of the National Arts Club of New York. Although never taking an active part in politics, Mr. Shea was always a staunch Republican. The only office of that character he ever held was that of director of the Fifth Ward (Allegheny) public schools, being a member of the building committee when the present building was to be erected.
In 1859 Mr. Shea was married to Elizabeth Galway, a member of a pioneer family of Pittsburgh, who resided on Penn Avenue, in the downtown district. His wife's death occurred 15 years ago; he is survived by two sons, Joseph B. and George E. Shea, the former of whom is president of the Pittsburgh Dry Goods Co., and resides with his wife at the old homestead. George E. Shea, a well-known musician made his home in Paris, France, for a number of years.
Mr. Shea became a member of the Pennsylvania-German Society on October 3, 1894."

At the South Fork Fishing and Hunting Club, Shea's nephew Durbin Horne, and Shea owned lot numbers two and three, respectively. These two men shared a cottage which was situated over the property line of the two lots.
Last updated: February 20, 2021