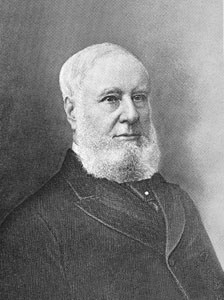 The biography that was originally posted here has been greatly expanded on by the research of John F. Leach, to which the Johnstown Flood National Memorial is forever greatful.
Benjamin Franklin "B.F." Jones was a pioneer in the steel and iron industry in Pittsburgh and co-founded the Jones and Laughlin Steel Co. that competed directly with Andrew Carnegie and his Carnegie Steel Co. Benjamin Franklin Jones was born on August 8, 1824, in the settlement of Claysville, PA, southwest of Pittsburgh.
He married Mary McMasters in Pittsburgh on May 21, 1850, and they had six children. Mary's father, John McMasters, was a farmer and built two Pittsburgh hotels. Her sister Rachel married William Larimer Jr., who helped develop the pioneer settlement of Denver, CO.
Jones was educated at New Brighton Academy. At the age of 18 he left his home and secured a job in Pittsburgh working for the Mechanics Line (a common carrier) as a clerk. His work ethic came to the attention of Samuel M. Kier who made Jones a general manager (at the age of 20) and a partner at the age of 21. Jones managed the firm for the next nine years, while Kier and Jones continued to expand their business. They purchased an iron furnace and forge in Indiana County in order to do business with the Pennsylvania Main Line Canal. This venture was not profitable due to low tariffs, but Jones himself prospered.
In 1851, Jones entered into a partnership with Bernard Lauth, who was building an iron furnace on the banks of the Monongahela a few miles south of Pittsburgh. Lauth sold his interest in 1854 to James H. Laughlin, and the company prospered, with Jones managing its operations and Laughlin taking charge of its finances.
The firm officially became Jones and Laughlin in 1861 and began making steel in 1886, eventually expanding its operations to both sides of the Monongahela River with a bridge to connect the furnaces on one side of the river with the rolling mills on the other. The company also owned coal mines to fuel its furnaces. Jones served as chairman of the Republican National Committee from 1884 to 1888.
In 1888, Jones built the Braemar Cottage in Cambria County to serve as his summer home after vacationing at the Mountain House Resort, which was popular with Pittsburgh's elite. His three-story, Queen Anne-style mansion is next door to a smaller cottage owned by Carnegie.
Jones died on May 19, 1903, in Allegheny City, which is now part of Pittsburgh.
Sources:
1.) Pittsburgh histories available online through Historic Pittsburgh.
2.) "Portraits of Steel," by David Wollman and Donald R. Inman.
3.)
http://books.google.com/books/about/Portraits_in_Steel.html?id=zFb--LMyXY0C
4.) History of Jones and Laughlin Steel Co.
5.) http://goo.gl/4ivwOS
6.)
http://journals.psu.edu/wph/article/view2287/2120
7.)
https://www.dot7.state.pa.us/ce_imagery/phmc_scans/H042016_01H.pdf
8.) http://goo.gl/SGrU7u