Americus Vespucius Holmes (1847-1931)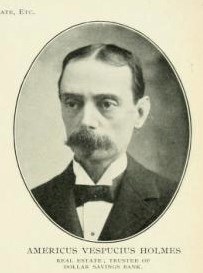 Americus Vespucius Holmes was born to Dr. Shepley Ross and Mary (Skelton) Holmes in downtown Pittsburgh on Marberry Street-which became Second Street-on March 16, 1847. The Holmes family was one of the oldest pioneer families in western Pennsylvania and Pittsburgh.
He began his studies at the Second Ward Public School and attended the Pennsylvania Military Academy in West Chester from 1863-1864. For one year, he attended Duff's Iron City College.
Not only was Mr. Holmes a man of achievement, but he achieved much at an early age. In 1868, he took charge of the Holmes family real estate, including the business block at 226 Fifth Avenue. Where his formal academic training was lacking, his mother and father took to teaching him to be industrious and honest in his professional dealings. While young, he got to know many of Pittsburgh's movers and shakers through the Free Masons. He achieved more at a young age than some had their entire careers.
Mr. Holmes also became interested in banking. When Holmes acted, the Pittsburgh banking community took notice. He was elected vice-president and first trustee of the Dollar Savings Bank and also a director in the Anchor Savings Bank.
On April 22, 1880, he wed Catherine "Cassie" Cain, of Philadelphia. The Holmes residence was quite full, including: Francis B. Nimick, age 39, brother-in-law; Caroline H. Childs, age 12, niece; William H. Childs, age 19, nephew; George P. Balmaine, age 35, nephew-in-law; and Margaret Balmaine, age 35.
The Holmes' resided in the 22nd Ward of Pittsburgh and their neighbors included: newspaper editor Thomas Link; newspaper editor Eugene O'Neil, dry goods merchant Charles Arbuthnot; attorney William Frew; and members of the Holmes, Horne, and Childs families. The French, Woodwell, and Laughlin families; all members of the South Fork Fishing and Hunting Club, were also neighbors.
Mr. Holmes was a member of the Duquesne Club as well as the Pittsburgh Athletic Association.
He died on August 7, 1931, in the Hotel Kenmawr and is buried in Allegheny Cemetery.
Last updated: March 24, 2017