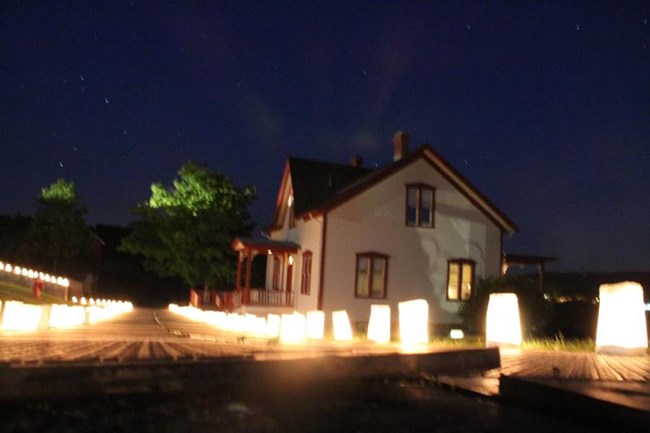 The 126th Anniversary Commemoration of the Great Johnstown Flood of Friday, May 31, 1889, was held over the weekend of May 30-31, 2015. While the anniversary weekend has passed, summer 2015 still has lots of special events. For a complete list of Summer 2015 events, click on this link for the 2015 Schedule of Events. NOTE: The schedule also includes information for our sister National Park Allegheny Portage Railroad National Historic Site
Some events require reservations. For more information and/or to make reservations please call the park at (814) 495-4643.
**Reservations are now being accepted! RESERVATIONS WILL BE ACCEPTED ONLY BY TELEPHONE. Thank you.**
Please plan on joining us for the following special summer programs:
Johnstown Flood Evenings on the Lake Programs:
All Evening on the Lake programs will take place on Saturdays at 7:00 pm in the park Visitor Center Theater. These events are FREE AND OPEN TO THE PUBLIC:
June 13-Dr. Uldis Kaktins, Revisiting the Flood Timeline
July 18-Park Ranger Nathan Koozer, Victor Heiser, a Survivor's Tale
August 8-Park Ranger Doug Bosley, 126 Years of Commemorating the Great Flood
September 26-Park Ranger Megan O'Malley, Art and the Industrialists
Johnstown Flood Van Tours-June-September 2015:
Daily Van Tours, June 1-September 27, 2015:
These hour-long tours take visitors around what was once Lake Conemaugh. Highlights of the tour include stops at the South Fork Fishing & Hunting Club Clubhouse and the remains of the South Fork Dam. Tour is included with the park entrance fee. Space is limited and reservations are recommended but not required.
Path of the Flood Van Tours:
These 4-hour long tours take visitors along the path of the Great Flood of 1889 from Lake Conemaugh to Johnstown, passing through South Fork, Mineral Point, East Conemaugh, and Woodvale along the way. This tour also includes an in-depth tour of the South Fork Fishing & Hunting Club Clubhouse. These tours begin at the Visitor Center at 1:00 pm on the following Saturdays: June 6 & 20; July 18; August 1 & 15; and September 5 & 26. Tour is included with the park admission fee, is limited to 12 passengers, and RESERVATIONS ARE REQUIRED.
Johnstown Flood Path of the Flood Hikes:
These ranger-guided hikes take visitors along the Path of the Flood Trail in two different sections. These hikes are about 5-8 miles in length, last for about 4-5 hours, and will be held on the following Sundays beginning at 11:00 am:
Path of the Flood 1st half-South Fork to Franklin:
June 7 & August 9
Path of the Flood 2nd half-Franklin to the Stone Bridge:
July 12 & September 20
All hikes are limited to 12 participants and RESERVATIONS ARE REQUIRED.