The Plains Depot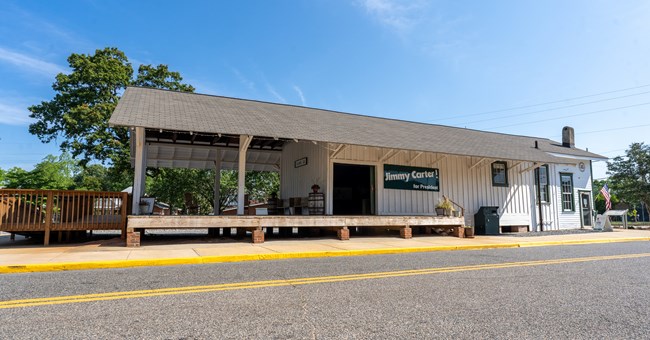 A Glimpse into the Past
Nestled in the heart of Plains, Georgia, the Plains Depot is a living testament to the town's rich history. Constructed in 1888, it stands proudly as the oldest building in Plains, having witnessed over a century of change and growth. Originally, the Plains Depot played a vital role in the community, serving as both a freight and passenger depot until 1951 when passenger service was discontinued.
The Carter Connection
In 1976, the Plains Depot took on a new and exciting role in the town's history. It became the center for Jimmy Carter's presidential campaign, marking a pivotal moment in both local and national politics. During this time, approximately 10,000 people a day flocked to Plains, eager to learn more about candidate Jimmy Carter. It was at the Plains Depot that many state primary victories and, ultimately, the historic presidential victory were celebrated, echoing with the jubilant cheers of supporters in the streets around the depot.
A Journey Through History
Today, the Plains Train Depot continues to be a cherished historical site. It houses a self-guided museum, offering visitors a unique opportunity to explore the life and political career of Jimmy Carter. The exhibits within the depot focus on Jimmy Carter's campaigns for state senator, governor of Georgia, and, of course, the iconic 1976 presidential campaign. As you step inside the Plains Depot, you'll be transported back in time, surrounded by the very essence of the campaigns that propelled Jimmy Carter into the national spotlight. The museum offers a glimpse into the political landscape of the era, the enthusiasm of Carter's supporters, and the milestones that led to his presidential victory.
General Information
107 Main St, Plains, GA 31780
The parking lot next to Plains Depot. No overnight parking. Lined spots for passenger vehicles. Large and oversized vehicles may be able to park in the lot, depending on vehicles already parked there. 
Sunday
 9:00 AM–4:30 PM
Monday
 9:00 AM–4:30 PM
Tuesday
 9:00 AM–4:30 PM
Wednesday
 9:00 AM–4:30 PM
Thursday 
9:00 AM–4:30 PM
Friday
 9:00 AM–4:30 PM
Saturday
 9:00 AM–4:30 PM
Holiday closures and seasonal exceptions.
There are no restrooms located at the train depot. 
There are no water stations located at the train depot. 
There is no wifi provided at the train depot. 
Plan Your Visit
Operating Hours & Seasons

Check out important information about the park including alerts and closures.

Visit here for basic information about the park.

Use the park map to explore Jimmy Carter National Historical Park.
Last updated: October 20, 2023