Permits for Special Events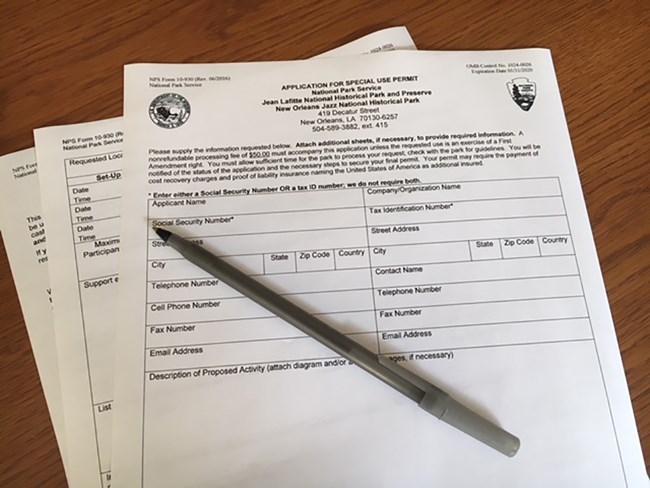 A special use permit is required to hold a special event at any of the park's six sites. Special events include weddings, memorial services, and sports-related events. A nonrefundable $50.00 processing fee made payable to "National Park Service" and paid by check or money order must accompany your completed application for a special use permit; follow the link for the special use permit application. Payment of the processing fee and submitting an application does not guarantee that your permit will be approved.

A few things to keep in mind when considering holding a special event at a Jean Lafitte site:
Park sites cannot be closed to the public during normal business hours. If you request exclusive use of a park site, it must be outside normal business hours. Find information about all of the park's six sites at the Plan Your Visit web page.
The park is required to charge a fee for special uses. The fee is similar to or greater than the fee charged by private venues. The fee covers as costs incurred by the park for an event, including clean-up, staff salaries (a certain number of park staff must be on site during any event), etc. The fee does not include the cost of equipment rentals, like tables, chairs, portable restrooms, etc. Note that the park does not offer tents, tables, chairs, etc., for rent.
Depending on the complexity of the event, the park may require wedding or other special insurance to cover contingencies.
Indoor events cannot exceed the fire code capacity for buildings.
Remember that parking at park sites was designed for everyday visitation and may not necessarily accomodate large groups. When the park hosts events which are expected to draw large crowds, park is generally offsite and visitors come to the park site via buses.
If food service is planned, there are additional requirements. Catering companies can usually handle these easily, but do-it-yourself events should check with local health departments regarding food handling and safety regulations.
If you have questions, call the park at 504-589-3882 ext. 129 or
email the park
.
Last updated: February 25, 2023