Places - Chalmette Battlefield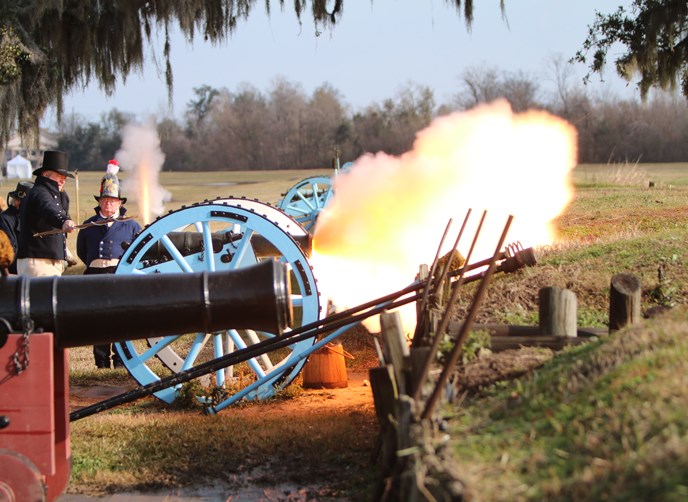 Chalmette Battlefield/The Battle of New Orleans
Just downriver from New Orleans in Chalmette is the site of the January 8, 1815, Battle of New Orleans: Chalmette Battlefield. Many people believe that this last great battle of the War of 1812 between the United States and Britain was unnecessary, since the treaty ending the war was signed in late 1814, but the war was not over. The resounding American victory at the Battle of New Orleans soon became a symbol of a new idea: American democracy triumphing over the old European ideas of aristocracy and entitlement. General Andrew Jackson's hastily assembled army had won the day against a battle-hardened and numerically superior British force. Americans took great pride in the victory and for decades celebrated January 8 as a national holiday, just like the Fourth of July.
Useful resources online include The Search for the Lost Riverfront: Historical and Archeological Investigations at the Chalmette Battlefield. It was published in 2009 and covers the New Orleans campaign of 1814-1815, site history after the battle, and archeological discoveries at the battlefield. Another comprehensive look at the site's history can be found in a National Park Service Historic Resource Study published in 1985 and updated in 2004.
View the Louisiana casualties during the War of 1812 and the Louisiana campaign, including the Battle of New Orleans. Two lists are contained in one pdf: the first is a partial list of Louisiana casualties during the entire War of 1812, the second is casualties from the Louisiana campaign. Note that although the British fleet set sail from Louisiana on January 30, 1815, many men died after that time, probably from wounds sustained or diseases contracted during the campaign. Please note that these lists were produced in 1954; the park welcomes new information---you can send it via the "contact us" link located in the left column.
View American troop rosters and muster lists for the New Orleans campaign, including the Battle of New Orleans. If you are looking for specific names, be sure to search all the different lists contained in the pdf and be sure to look at alternate spellings. Note that the last sentence on page 2 of the document (the sentence about the search bar) only applies to searches of the list using the kiosk at Chalmette Battlefield. If you have questions or new information, use the "contact us" link on the left side of this page to email the park.
If you are searching this list at the kiosk at Chalmette Battlefield, click here for the list. Hit "Ctrl+F" keys and type a name in the search bar in the upper right corner of the screen. Use the up and down arrows on the search bar to scroll through the matches. If you do not find the person you're looking for, note that this is probably not a complete list: records were not accurately kept or names may have been misspelled.
---
Here are other useful Battle of New Orleans and War of 1812 resources:
Last updated: June 24, 2015