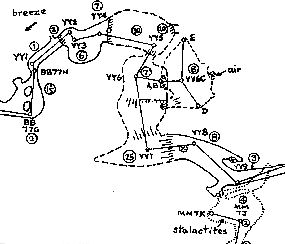 Navigating through the cave:
Once the group enters the cave, a great deal of time is spent traveling to the area to be surveyed. Usually this travel is along a "flagged" route, which is marked with plastic surveyor's tape. The tape is color-coded for different routes. Small pieces of tape are visible on rocks along the trail, pointing the way. Turns are marked by bending the flagging tape to make an "L" shape. One end of each piece of tape is cut into a point: this arrow always points to the quickest way out of the cave.
Only main routes through the cave are flagged. Therefore, every survey trip will involve traveling away from a flagged route. The cave maps are used to travel between flagged routes and the team's destination. Maps show the location of cave survey stations, passage walls, and features such as pits, ledges, and large rocks. When entering unmapped territory, the group surveys passages as they go, placing new survey stations that they can follow on the way back.
Exploring and mapping leads:
Cave maps show the location of "leads," or unexplored passages. Sometimes a team will enter a lead and find that it ends after only a few feet. Sometimes a lead will go on for miles and reveal several new leads. The team surveys leads until they end, or until it is time to head back to the surface.
In order to add these new discoveries to the cave map, the team begins their survey at the nearest pre-existing station and surveys into the lead.