Shrubs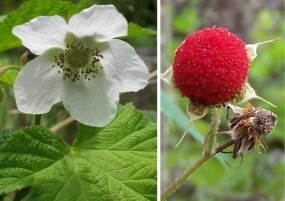 What abundant Isle Royale shrub produces maple-like leaves, large white -petaled flowers and red, juicy, shower cap-shaped fruits? Why, thimbleberry, of course! If thimbleberries taste too tart to you, fruits of other island shrubs (blueberries, raspberries, and sugar plums) offer a sweeter alternative. When sampling island berries or other plant parts, make sure that you know what you are eating is safe; some fruits and plants are poisonous.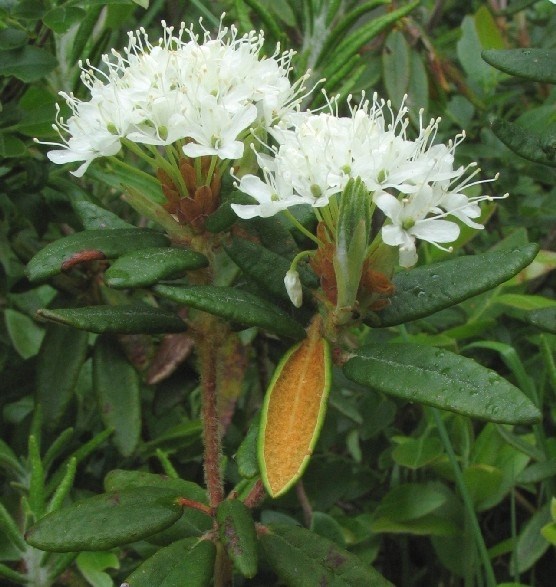 Other common Isle Royale shrubs include bearberry, prickly rose, juniper, and mountain ash, all of which grow in drier rocky areas. You can find leatherleaf, bog laurel, bog rosemary, and labrador tea thriving in boggy areas, while tag alder and sweet gale dominate other wetlands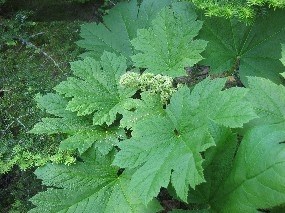 Many shrubs provide food and shelter to island birds and wildlife. In the past, the largest of the island's wildlife (moose) munched so much on canada yew that this once common shrub is now very sparse on the main island. However, just three miles (five km) to the northeast on moose-free Passage Island, this evergreen species continues to thrive. Also abundant on Passage Island is devil's club, an easily recognized shrub with spiny stems and leaves. This well-armed shrub, a Michigan threatened species, grows nowhere in the state except Isle Royale. Devil's club is one of about ten species at Isle Royale (including thimbleberry) classified as a "western disjunct," meaning that its main range is in the western U.S. To view a range map of devil's club (Oplopanax horridus), click here.
Last updated: April 10, 2015