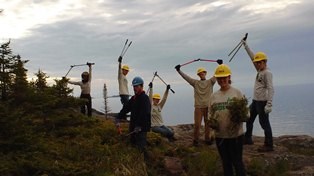 If donating your time and effort while living on a remote, roadless island surrounded by the largest freshwater lake in the world appeals to you, consider volunteering at Isle Royale National Park.

Summer volunteer positions are available in the Division of Resource and Visitor Protection, Interpretation and Cultural Resources, Natural Resources, and Maintenance.
Work may require travel throughout the park's backcountry; camping, backpacking, and small boat handling experience is desirable but not mandatory. The time commitment for most positions is 12 weeks, full-time (40 hours/week).
All Volunteer-in-Park positions have an application deadline of March 1.