Wanda Zuchowski-Schick (Artist-in-Residence, 1997)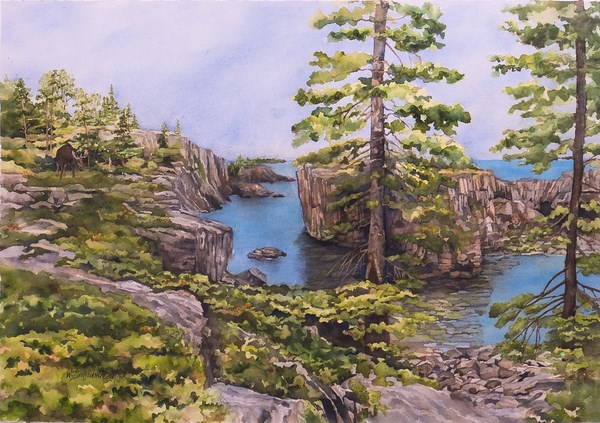 Isle Royale Reflection
"When I was an Artist-in-Residence in 1997, it was the first time I was ever alone for an extended period of time. The wonder of it all was truly awe inspiring. It was a time of deep thinking and feeling. I thought it would be quiet but it was not. The sound of the loons and birds at times were quite noisy. I was able to canoe and portage through Moskey Basin to Lake Richie to Intermediate Lake, and out to Malone Bay, pike fishing along the way. The Voyageur transport enabled me to visit the Windigo side of the Island and dropped me off at the postal stop in Tobin Harbor not far from the Dassler Cabin. I was able to experience the island as much as I could in the 16 days I was there.

As I hiked the Stoll Trail to give my presentations or just hike I would almost always encounter moose on the same trail. I would step aside and hover near trees. He would look at me for a bit then continue. This became the inspiration for my painting "Encounter Along the Stoll Trail" that was donated to the National Park Service. I began painting on site and finished it at home.

The wolf – moose study also lit a fire to visit the wolves in Yellowstone. My husband and I have gone 13 times in September or October to wolf watch. I have returned to Isle Royale twice since my residency. Once hiking with my husband and the second kayaking with three of my sisters. I have since created many paintings inspired by Isle Royale, the wolves and the moose. As I get older I hope to return again. This Island is embedded deep in my soul."

- Wanda Zuchowski-Schick, 2019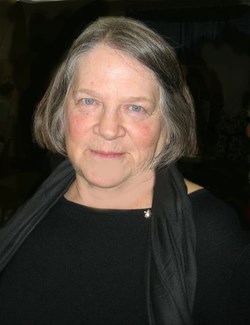 About the Artist
Wanda Zuchowski-Schick was raised and still resides in Rossford (northwest Ohio), the ninth of fifteen children. She devotes her full attention to her career in the fine arts, and becoming recognized as a painter of the national parks. She primarily exhibits her paintings and prints throughout Ohio and Michigan. She has exhibited at the Ohio Watercolor Society numerous times and has been an exhibitor in their prestigious Ohio Watercolor Traveling Exhibit. She has been a participant and won numerous awards at the Toledo Federation of Art Societies Annual Exhibit, held at the Toledo Museum of Art. Wanda was awarded an Artist Residency at Isle Royale National Park from June 27th to July 16th, 1997.

Her paintings are realistic in style. She uses transparent watercolor or oil emulsion to create her images. Due to time constrictions, she works from photographs she takes while pursuing her subject matter. She tries, through her paintings, to share her view of the unspoiled expanse of land that words cannot describe. Being alone out in the vast expanse of our national parks humbles her and creates an inner peace. Her paintings are very personal. She wants only to express her impression of the wildness and beauty of the land. At times that beauty may be a simple flower.

Search by Year

Search past Isle Royale Artists-in-Residence by year of their residency.

Search by Artist

Search past Isle Royale Artists-in-Residence by last name.

View Gallery

View past Artist-in-Residence artwork sorted by medium.
Last updated: January 5, 2020