Mary Jo Van Dell (Artist-in-Residence, 2004)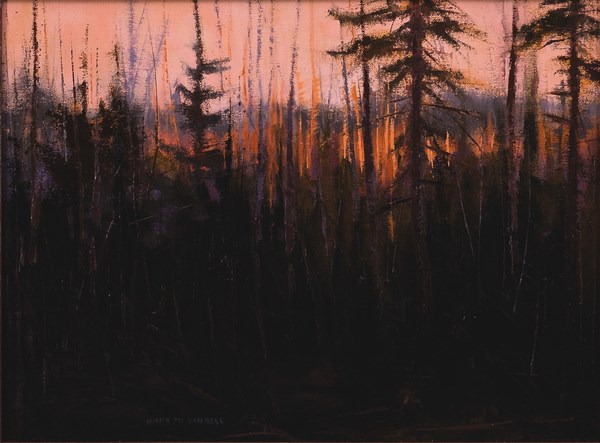 Isle Royale Reflection
"I like the wilderness. I spend time in it. I relate to it for the difficulty it sometimes takes to be in it. I admire its raw beauty. I love her moods, uncertainties and unpredictability. I compare it to life as an artist.

My time on Isle Royale was precious, as it allowed me to experience the intangibles that inspire me to paint….. A stand of pines, silent and elegant…or the lake, gunmetal gray, primeval…and stark. My work is heavily influenced by the tranquility, melancholy and fear that I allow myself to experience when in the wilderness. Being alone in my cabin on Isle Royale helped to heighten my senses, deepen my insight, allowed me to hear the silence, feel the wind, and see the invisible. I was able to produce much work from my time on Isle Royale and had several gallery shows featuring this body of work.

I will always be an artist. I have chosen it…or perhaps it chose me. I want my art to continue to evolve with time, but always to convey my response to the wild, lonely places that attract me. My paintings allow me to share with others my respect, honor and care for the earth."

- Mary Jo Van Dell, January 2019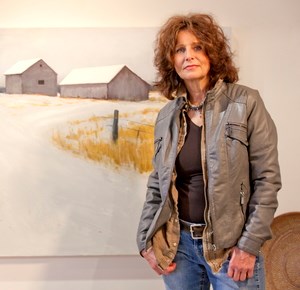 About the Artist
Mary Jo Van Dell was an Isle Royale Artist-in-Residence from June 28th to July 14th, 2004. She is from the St. Croix River Valley of Minnesota and has devoted her life to mastering her artistic vision onto the oil painter's canvas.

Largely self-taught, Van Dell's style, unique and independent, defies precise classification. Historical references might include Winslow Homer and Andrew Wyeth. Her minimalist palette emphasizes the natural world, austere and uncompromising. Her contrast of light and dark captures the drama and power. With her paintings, Van Dell conveys the awe and joy of the nature's rawness, and invites others to share in her emotional response. Van Dell is known for evocative works in oil, rich in beauty, mystery and immense power. Many of her paintings depict man's presence and his struggle to survive in an ever changing envinronment.

She draws inspiration by hiking, backpacking, skiing and immersing herself in the wild. The rivers, lakes and forests of northern Minnesota, especially the North Shore of Lake Superior, and into Canada have been her focus throughout her life. More recently, she has explored and portrayed landscapes of the Pacific coast and desert vistas of the Southwest.

Collected and exhibited nationally and internationally, Van Dell's paintings hang in both public and private collections including, The Minnesota Historical Society, The Minnesota Marine Art Museum, The National Park system and most recently the Art in Embassies program of the U.S. State Department. See more of Mary's work on her personal webpage.
Search by Year

Search past Isle Royale Artists-in-Residence by year of their residency.

Search by Artist

Search past Isle Royale Artists-in-Residence by last name.

View Gallery

View past Artist-in-Residence artwork sorted by medium.
Last updated: December 19, 2019