Dan Urbanski (Artist-in-Residence, 1992)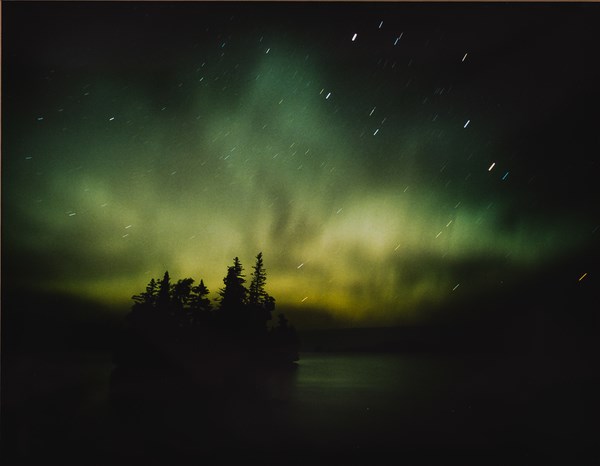 Isle Royale Reflection
"I came to Isle Royale with an attitude. I felt it couldn't measure up to my Porcupine Mountains. After all, the island had no virgin timber like the Porkies, and the hills were smaller, too. But on Tobin Harbor and Scoville Point, where my wife Patty and I stayed, Lake Superior makes a profound impression. The Lake Superior impression was enhanced further because sea kayaks were our daily means of transportation. Serious regard to the lake's moods governed our comings and goings. The splendid Lake Superior scenery even crept into my subconscious: I had dreams for many weeks after the trip of the tiny islands in the harbor and waves on the rocky point.
I took home two insights from my stay on the island; one defining the mechanics of how I work, the other teaching me to look more closely at the subtleties of nature. I spent most of my sixteen-day visit just familiarizing myself with the neighborhood, finding the most scenic locations and getting some sense of the process of nature there. Once that was accomplished, I finally got busy making meaningful images. I hadn't realized until then how critical familiarity was in creating my photographs.
My residency extended into mid-September. Near the end of my trip, I realized the Island was at the peak of autumn colors by looking down at the ground cover instead of across at the trees. The boreal forest at the end of the island is nearly unchanging, but the wild sarsaparilla and strawberry were a riot of color. That revelation sharpened my visual acuity and has opened new photographic opportunities for me.
The photograph of the aurora borealis over Tobin Harbor was made on the first evening of my trip. After an all-day rain, the skies cleared to reveal this spectacular heavenly display. It was a special reward for a late evening trip to the outhouse."

-Dan Urbanski*

*[Source for Dan's reflection: Root, Robert and Jill Burkland, editors. (2000). The Island Within Us. Houghton, MI: Isle Royale Natural History Association. p 40. Print.]
About the Artist*
Dan toured the Upper Peninsula and found that Silver City and Ontonagon County had the friendliest people and decided to put down roots. A self-taught photographer, Dan turned his "shutterbug" hobby into a business and opened Silver Image Studio in 1977. His work included the full range of portraiture, commercial, and aerial photography, but he was probably best known for his outstanding "nature pictures." Dan knew where to go, when, and under what conditions to capture nature at her most photogenic. Wherever he went, he created images and his interpretation of the Porcupine Mountains became the standard by which all such photos are judged. He was able to share his love of the area through stunning multi-image slide programs, which he set to music and presented throughout the Midwest.

Dan was an Isle Royale Artist-in-Residence from September 1st to September 16th, 1992. His pictures have won numerous awards and he has been published in Backpacker, Midwest Living, Better Homes and Gardens, and Lake Superior Magazine. His work has often been featured in Michigan Travel Bureau promotions.

His commitment did not end there, however. Dan was a driving force and tireless worker for the Porcupine Mountain Chamber and a founding member of the Friends of the Porkies. For eight years, he was the voice of the "Friends" through the Quill Newsletter, which he created. Whether picking up litter on M-107, tallying ski race results, or running a stable fly "trap line", Dan was the first to step up to the plate; generous, intelligent, scientifically minded, curious, outdoor enthusiast, mountain biker, kayaker, camper, hiker, photographer, friend. Dan passed away in 2004.

- Written by Dan's wife, Patty
Next Artist-in-Residence by Date
Return to the Artist-in-Residence Exhibit
Search by Year

Search past Isle Royale Artists-in-Residence by year of their residency.

Search by Artist

Search past Isle Royale Artists-in-Residence by last name.

View Gallery

View past Artist-in-Residence artwork sorted by medium.
Last updated: December 26, 2019