Steve Timm (Artist-in-Residence, 2002)
Isle Royale Reflection
"My 2002 residency at Isle Royale allowed me the time and space to quiet my writing, and to fuse my scholarship and creative efforts with my love of the outdoors. I've backpacked and paddled since I was a young teen—but it never occurred to me to merge these foci until I first hiked Isle Royale in 2001 with my family. The encounter with the moose in Tobin Harbor—transformed into the father's awakening in "Of Moose, Wolves and Daughters"—profoundly changed the direction and intention of my creative work. I've subsequently written three full length plays, a dozen or so monologues, and a screenplay adaptation of Cid Rickett's Sumner's "Traveler in the Wilderness" examining encounters in the wild—narratives unified by each protagonist's quest to find solace and heeling in the wild. In turn, my research in wilderness philosophy and policy has fueled an exigency toward environmental advocacy and activism."

- Steve Timm, March 2019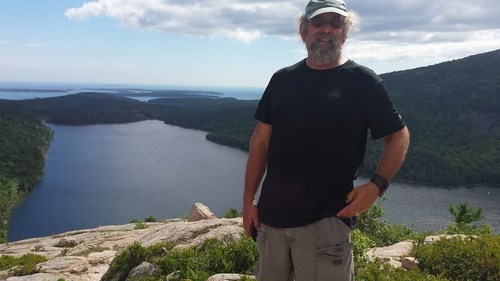 About the Artist
Steve Timm was an Isle Royale Artist-in-Residence from July 5th to July 20th, 2002. He is a screenwriter and playwright from Indiana. After serving in the Air Force in the mid-1970s, he completed his BA in English Literature and MFA in playwriting at Indiana University in Bloomington. Steve is currently a Professor of Communication and Theatre at DePauw University, where in addition to writing and directing stage plays, he teaches January and May Term courses on Wilderness Writing, guiding students through The Everglades, the mountains of northern New Mexico, Western Australia, and, of course, Isle Royale.

His latest film, Reparation, co-written and produced with Kyle Ham, was a film festival favorite in 2015, winning top awards in Santa Fe, East Lansing, Austin, Sedona, Breckenridge, and Dubuque. He lives in Reelsville, IN with painter Barbara Fields Timm.
Next Artists-in-Residence by Date
Return to the Artist-in-Residence Exhibit
Search by Year

Search past Isle Royale Artists-in-Residence by year of their residency.

Search by Artist

Search past Isle Royale Artists-in-Residence by last name.

View Gallery

View past Artist-in-Residence artwork sorted by medium.
Last updated: October 14, 2020