Sara Tabbert (Artist-in-Residence, 2012)

Isle Royale Reflection
"My time on Isle Royale was an idyll. Long private days of exploration, nearly entirely sunny skies, a beautiful old cabin, time to think about the place and its own history, and the role it played in my life (my existence, actually!)

I visited the fire tower that I shared with my parents long before I could have any memories of the place [Sara's parents were summer rangers there]. I swam, hiked, and ran on the trails in the indulgent knowledge that there were no bears. I ran into some scared hikers who said, "you are out here ALL BY YOURSELF?" and was thankful for my life that has let me feel free and at home in wilder places. I met interesting people and was reminded again why rangers and staff return to the park year after year.

I feel so lucky to have had the time. I live too far away to visit often, but I will be back. I've had the good fortune to be an AIR through the National Park Service since and will be again this summer. They have all been influential and important (and fun!) experiences. It is a privilege few receive, and I remain grateful for the opportunities."

- Sara Tabbert, March 2019


About the Artist
Sara Tabbert is a printmaker and mixed media artist from Fairbanks, Alaska. She returned to her hometown in 2000 after college and graduate school in the Midwest and since 2010 has been fortunate to be a full-time artist. All her work is tied to the material of wood – she carves and prints wood blocks on paper, or the carved pieces become the art itself. In addition to smaller work, Tabbert's large scale commission can be found in and on public buildings throughout the state. Her efforts have been supported by grants from the Rasmuson Foundation and the Alaska State Council on the Arts.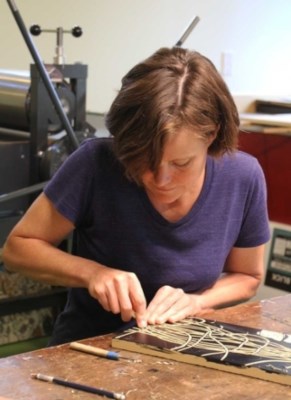 In addition to residencies in the US, Canada, Argentina, and Italy, she has been a summer and winter artist in residence through the National Park Service in Denali, as well as Zion and Isle Royale (July 3rd to July 21st, 2012). In 2019 she will be an artist in residence on the Chilkoot Trail, a joint residency through NPS and Parks Canada. Her work will be exhibited in 2020 in a solo show at the Alaska State Museum in Juneau.

Sharing art with young people is one of her priorities and she has worked actively over the past ten years as a teaching artist with schools from the Seward Peninsula to the end of the Aleutians. Learn more about Sara's work on her personal webpage.
Search by Year

Search past Isle Royale Artists-in-Residence by year of their residency.

Search by Artist

Search past Isle Royale Artists-in-Residence by last name.

View Gallery

View past Artist-in-Residence artwork sorted by medium.
Last updated: January 5, 2020