Richard Schilling (Artist-in-Residence, 1996)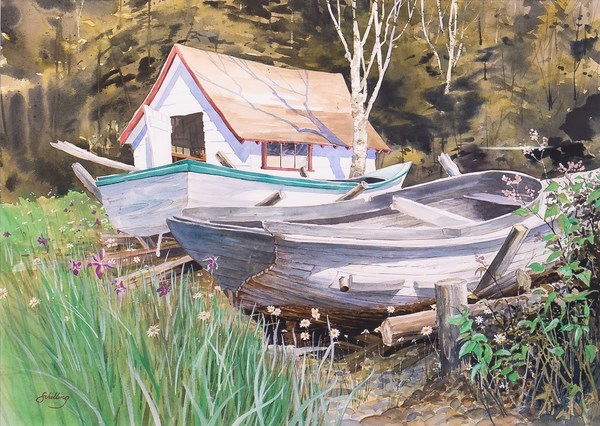 Isle Royale Reflection
"A few notes from my Isle Royale diary:
July 2, Scoville Point: I found the cottage that would be my home for the next three weeks sequestered under pines and birch on a rocky promontory thirty feet above the waters of Tobin Harbor. Inside, the cottage walls and furniture are slightly askew to a plum line, yet they welcome me as a similarly flawed friend. The wavy window panes sparkle with jewel-like air inclusions. A skilled stone mason built the fireplace and hewed from a log its decorative mantle. Even though it is now late in the evening, the light is only beginning to fade. It has not been necessary to burn the kerosene lamps. Tomorrow I will explore the island for watercolor subjects.

July 6: I am beginning to bond to the cottage. One must invest time to develop a relationship. It rained most of the day and my only option was to paint a view from the cottage window of spruce and birch trees and the distant islands. It is taking me at least three times as long to paint here as in Colorado due to the humidity which has prolonged the drying time of my watercolor washes. I stand my damp watercolors up to dry, like laundry, towards the warmth of the fire. Such a minor annoyance will not deter me from the excitement of painting the wilderness.

July 9: I hiked to Snug Harbor and arrived just as the M.V. Sandy was casting off for Rock Harbor Lighthouse and Edisen Fishery. I was greeted at the fishery by a scene that looked much like a movie set. Rotting boat hulls were floating in a sea of wild flowers, and antique implements were scattered in the yard long ago by fishermen whose woven nets have been wound on giant wooden reels. I painted a rendering of the fishery and one of the lighthouse before the Sandy embarked for home.

July 19: The cottage screen door slammed shut this morning as I headed down the path to the outhouse that bore the inscription R.I.P. The sudden intrusive noise frightened a bull moose that had been standing beneath the eaves of the cottage. He thundered down the path narrowly missing me. For days I had seen fresh tracks next to the cottage windows but was unable to catch the window-peeker in the act. It caused me to reflect—who had come to observe whom in this magnificent north woods wilderness?"

- Richard Schilling*
About the Artist*
Richard Schilling was an Isle Royale Artist-in-Residence from July 2nd to July 20th, 1996. His love of watercolor began as a youngster in grade school when he was chosen to receive instruction in the medium at the University of Nebraska on Saturday mornings. Many years later, he graduated from the same university with a degree in dentistry. For the past thirty-five years he has practiced both dentistry and the art of watercolor painting. "I chose dentistry for my livelihood, but art permeates every aspect of my being. The two are partners that travel easily with unusual harmony."

He worked ten years as a part-time dentist on Holland America Cruise ships and serves as a volunteer dentist in developing countries. These opportunities have provided sketchbooks full of watercolor paintings. He lives in Loveland, Colorado with his wife and dog, sharing his knowledge with others in workshops that he teaches.

He says of his experience as an Artist-in-Residence at Isle Royale National Park, "This experience will always remain one of the highlights of my life." His painting of the Edisen Fishery was chosen as one of the top one-hundred paintings in the Academy of Arts for the Parks national traveling exhibition during 1997-1998.

*[Source for all Richard's page content: Root, Robert and Jill Burkland, editors. (2000). The Island Within Us. Houghton, MI: Isle Royale Natural History Association. p 98. Print.]

Next Artist-in-Residence by Date
Return to the Artist-in-Residence Exhibit
Search past Isle Royale Artists-in-Residence by year of their residency.

Search past Isle Royale Artists-in-Residence by last name.

View past Artist-in-Residence artwork sorted by medium.
Last updated: January 5, 2020