Gail D. Panske (Artist-in-Residence, 2010)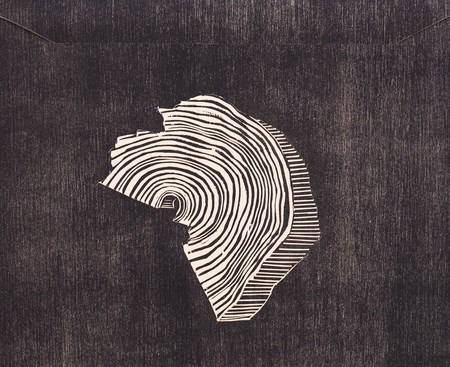 Isle Royale Reflection
""Taking The Path The Other Way" was the title of the presentations I gave during my two weeks as artist-in-residence at Isle Royale National Park. I came to the island with the goal of spending as much time as possible exploring and discovering what Isle Royale had to offer me as a visual artist. My approach to the creative process is centered on searching for inspiration by looking at the surrounding environment from different and multiple perspectives, hence, "taking the path the other way". I found an exciting, unexpected blend of influences representing both the island's natural and cultural heritage.

The two weeks I spent on Isle Royale were amazing. My days were filled with exploration and discovery documented by the many drawings that filled the sketchbooks I carried with me. First getting to know the area around the Dassler cabin, then venturing out hiking and canoeing. Thanks to Chris Gale, I visited many parts of the park including Passage Island, and had the opportunity to get to know some of the people who carried on a tradition of spending summers at their family cabins on Isle Royale.

My time on Isle Royale resulted in the large series of prints and drawings titled "Isle Royale Mirage". The two pieces that are part of the National Park collection were designed to be reminiscent of a mid-twentieth century picture postcard set. The images represent the complicated relationship between the land, the water and the people who have long occupied what we now know as Isle Royale National Park."

- Gail Panske, March 2019
About the Artist
Born in Oshkosh, Wisconsin, Gail Panske received her MFA from Indiana University and a BFA from the University of Wisconsin Oshkosh where she is a Professor of Art. She is the recipient of an Arts Midwest/National Endowment for the Arts, Individual Artist Fellowship, and numerous faculty research grants.

Panske's work is part of numerous private and public collections. Solo exhibitions include Rain Voices at 150 Franklin Street Gallery in Harrisonburg, Virginia; Seeing The Air Bend at Berea College in Berea, Kentucky; Between Now and No Time at the Aylward Gallery at UW Fox Valley, Menasha, Wisconsin; and Templum Sequences at Bergstrom Mahler Art Museum in Neenah, Wisconsin. Group exhibitions include New Prints 2019/Winter at the International Print Center New York; The Print Center's 88th Annual International Competition sponsored by The Print Center, Philadelphia, Pennsylvania; the 7th International Lithographic Symposium Exhibition in Tidaholm, Sweden; and Air, Water and Earth, Muckenthaler Cultural Center, Fullerton, California.

In addition to the residency at Isle Royale National Park from July 23rd to August 7th, 2010, she has also been an Artist-in-Residence at the Jentel Foundation in Banner, Wyoming; Frans Marereel Centrum in Kasterlee, Belgium; The Brush Creek Foundation for The Arts in Saratoga, Wyoming; Ålgården Konstnarernas Verkstader och Galleri in Borås, Sweden; and the Litografiska Verstaden in Tidaholm, Sweden. See more of Gail's work on her personal webpage.
Search by Year

Search past Isle Royale Artists-in-Residence by year of their residency.

Search by Artist

Search past Isle Royale Artists-in-Residence by last name.

View Gallery

View past Artist-in-Residence artwork sorted by medium.
Last updated: December 21, 2019