Ann McCutchan (Artist-in-Residence, 1999)
Isle Royale Reflection
"… an unexpected storm blew up from the west side of the island. One immense thunderhead, like a mass of gray dough, moved into the blue, and above it, an eerie halo of aquamarine. The noise of it was like a half-dozen jet planes tearing around in circles. I wondered if the cloud might be a swarm of contrails, a sky-sized knot of exhaust. It moved so fast. I could either stay put or try to outrun it, and I chose to run because I'd brought no raingear. But before long, the rain came splashing down, not in sheets, but in gobs that poured and smacked. In minutes I was soaked to the bone; even the chamois shirt was dripping. The trail was a stream, and the lightning, hidden before in the clouds, became visible. I was frightened and elated at the same time. In the midst of it all, I began to laugh wildly, out loud! What a great trick nature plays on human minds. One bolt of lightning and all self-involvement evaporates. The dialogue between weather and a woman needed no words; it was immediate. Such a blessing. When the storm began to dissipate, I took to the trail, back to Dassler. How good it felt to finally lurch into the cabin, throw together a fire, peel off the clammy clothes, and let the wood heat blast my skin."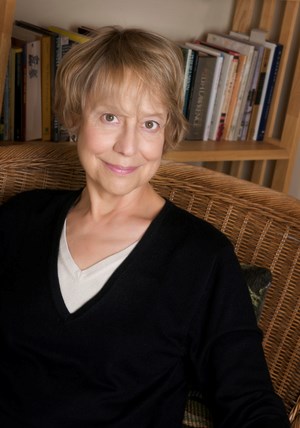 About the Artist
Ann McCutchan was an Isle Royale Artist-in-Residence from July 2nd to July 21st, 1999. She is an essayist, journalist, memoirist, biographer and librettist. Of her five books, the earliest are a biography of French flute virtuoso Marcel Moyse (1994) and The Muse That Sings: Composers Speak About the Creative Process (1999) -- both important contributions to the literature of music and creativity.

In 2011, she published two titles: Circular Breathing: Meditations From a Musical Life, and River Music: An Atchafalaya Story, an eco-biography of Louisiana musician Earl Robicheaux and the vanishing Atchafalaya River Basin he preserves and celebrates in sound. Where's the Moon? A Memoir of the Space Coast and the Florida Dream was released in 2016. She is currently finishing The Life She Wished to Live: A Biography of Marjorie Kinnan Rawlings, author of The Yearling, for W.W. Norton.

As a librettist, Ann recently completed Swan's Inlet, an opera based on an original story, in collaboration with composer Mark Alan Taggart (March 2018 premiere, Center for Contemporary Opera, NYC) and Purewater, a chamber opera based on André Gide's novella La Symphonie Pastorale, with composer Andrew Rudin, set for performance by the CCO June 1 2019, at The Abrons Arts Center, NYC. Among her eight previous musical texts is an original stage play for Stravinsky's L'Histoire du Soldat (Chamber Music Hawaii commission). You can see more of Ann's work on her personal page or read an interview about her work.
Search by Year

Search past Isle Royale Artists-in-Residence by year of their residency.

Search by Artist

Search past Isle Royale Artists-in-Residence by last name.

View Gallery

View past Artist-in-Residence artwork sorted by medium.
Last updated: February 15, 2020