Meghan Kirkwood (Artist-in-Residence, 2005)
Isle Royale Reflection
"The few weeks I spent on Isle Royale in 2005 were some of the most important moments for me in my path to becoming an artist. At the time I was still a student who was very deeply interested in political art and the ways in which visual arts can motivate discussion and reflection over current events.

While in residence at Isle Royale the surroundings inspired me to think more deeply about the ways land and the natural environment operate as metaphors for the values people hold closest--ones that animate how they feel towards others and how they orient themselves in the world. There, I began to think about how representations of space and land could be used to frame and otherwise help ground discussions about difficult issues (politics, history, land use) in a space of love and common experience. I learned that when I photograph places, elements, and natural settings I can pose questions from points of connection, as opposed to differences.

In sum, my experience at Isle Royale helped my work evolve from a more didactic, advocacy-driven practice to a more sensitive exploration of the interactions between history and feelings in landscapes. This development started on the island -- and my work completed there reflects this process -- but took years to fully come to fruition. I think sometimes about how important this time was to me and if I could have matured as an artist absent the unique experience on the island. But mostly, I reflect on how grateful I am to have had the time and space there to grow."

- Meghan Kirkwood, March 2019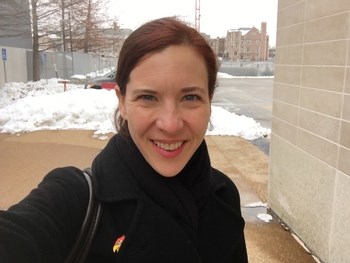 About the Artist
Meghan L. E. Kirkwood was an Isle Royale Artist-in-Residence from July 19th to August 3rd, 2005. She is an Assistant Professor at the Sam Fox School of Design and Visual Art at Washington University in St. Louis. She earned a B.A. from Grinnell College and a BFA from Rhode Island School of Design before completing her MFA in Studio Art at Tulane University. She has received numerous fellowships, including funding to participate in artist residencies through the National Park Service, the Vermont Studio Center, and the Lakeside Lab (Iowa). Kirkwood's photography has been exhibited throughout the United States, in Europe, and South Africa.

Kirkwood's photography concentrates on landscape, with particular focus on energy-producing regions. Her experiments with landscape images and research into the history of the genre represent a long-term interest in the ways artistic representations of land help generate and sustain values and attitudes toward the natural environment. In addition, Kirkwood is engaged in efforts to develop and further artist/scientist and artist/designer collaborations aimed at advancing and communicating research related to the study of land.

In tandem with her studio practice, Kirkwood also researches in the fields of African photography. She holds an M.A. in Art History from the University of Kansas, where she researched African monuments designed and built by North Koreans. Kirkwood recently currently completed a dissertation on the uses of landscape imagery by contemporary South African photographers in fulfillment of a Ph.D. in Art History from the University of Florida. View more of Meghan's work on her personal webpage.
Search by Year

Search past Isle Royale Artists-in-Residence by year of their residency.

Search by Artist

Search past Isle Royale Artists-in-Residence by last name.

View Gallery

View past Artist-in-Residence artwork sorted by medium.
Last updated: December 16, 2019