Louis Jenkins (Artist-in-Residence, 1993)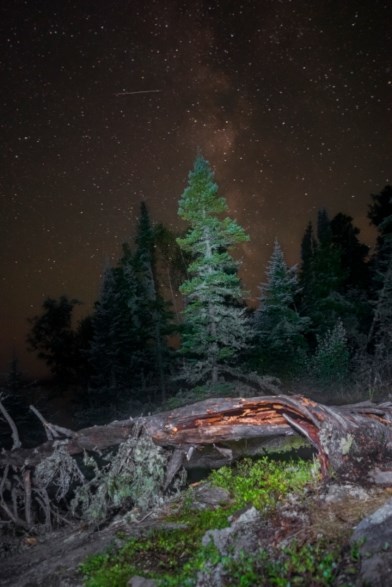 Isle Royale Reflection
"I had a marvelous residency on Isle Royale. Unlike some visitors I was lucky enough to have really fine weather during my entire two week stay. Because I was on the island in August and because of the view that Scoville Point affords I was able to witness the incredible display of the Perseid meteor showers almost every night. During the day there was hiking, fishing and, of course, plenty of time to write.
I don't know what the essential nature of my writing was changed by my stay on Isle Royale, but it was certainly enhanced, put in perspective. The Isle Royale experience has now become a permanent part of my psychic landscape. The beauty, the primal water and rock nature of the island, I have no doubt, continue to affect my writing for the rest of my life."

- Louis Jenkins*
About the Artist*
Louis Jenkins was an Isle Royale Artist-in-Residence from August 3rd to August 18th, 1993. His poems have been published in such literary magazine as American Poetry Review (selected by James Wright), Boston Review, Gettysburg Review, Kenyon Review, Paris Review, Poetry East, and Virginia Quarterly Review. They also have been included in such anthologies as Literature: The Evolving Canon and The Rag and Bone Shop of the Heart. Among his books of poetry are An Almost Human Gesture (Eighties Press and Ally Press, 1987), All Tangled Up With the Living (Nineties Press, 1991), Nice Fish: New and Selected Prose Poems (Holy Cow! Press, 1995), which won the 1995 Minnesota Book Award for poetry, and Just Above Water (Holy Cow! Press, 1997).

Louis has read his poetry on Garrison Keillor's Prairie Home Companion. His reading as one of the featured poets at the 1996 Geraldine R. Dodge Poetry Festival was included in Poetry Heaven, a program which aired on public television in 1998. His most recent work is Where Your House Is Now, New and Selected Prose Poems, published published September 1, 2019 by Nodin Press.

He was born and raised in Oklahoma but lived in Duluth, Minnesota for 45 years. He now resides in Bloomington, Minnesota. Learn more about Louis on his personal webpage.

*[Source for all Louis's page content: Root, Robert and Jill Burkland, editors. (2000). The Island Within Us. Houghton, MI: Isle Royale Natural History Association. p 50. Print.]

Next Artist-in-Residence by Date
Return to the Artist-in-Residence Exhibit
Search by Year

Search past Isle Royale Artists-in-Residence by year of their residency.

Search by Artist

Search past Isle Royale Artists-in-Residence by last name.

View Gallery

View past Artist-in-Residence artwork sorted by medium.
Last updated: December 13, 2019