Rebecca Jabs (Artist-in-Residence, 2017)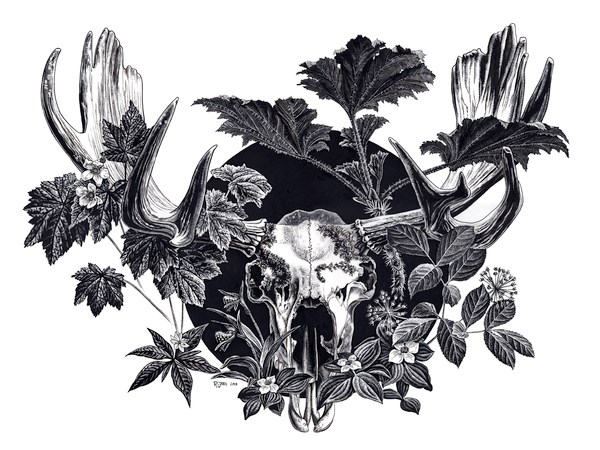 Isle Royale Reflection
"Isle Royale is surrounded by the vastness of Lake Superior; from Dassler Cabin I could observe the moods of the water and marvel at the changing light. During my time on Isle Royale, I was interested in learning how the climate and isolation of this northern wilderness affected its ecosystem.

I visited the headquarters of the famous wolf/moose study on several occasions to sketch, photograph, and learn from Rolf and Candy Peterson. An impressive collection of moose skulls on the grounds is a testament to many years of research on the island. Surrounded by this forest of antlered skulls, and observing the native plant life growing among their rows, the inspiration for Garden and Grave was born.

In addition to the characteristic plant life of the forest floor, Isle Royale is home to a number of arctic and western disjunct species: these plants are far out of their typical range, but thrive in the cool island climate. Locating and identifying disjunct species such as the spiny Devil's Club was an unexpected highlight of my time on the Island."

- Rebecca Jabs, January 2019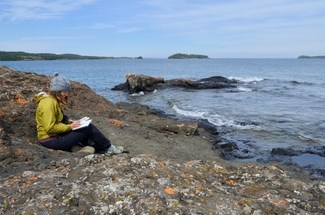 About the Artist
Rebecca Jabs is a scientific illustrator based in Wisconsin. She does freelance illustration for publications and organizations nationwide in addition to creating nature and science-themed artwork for exhibition. Working across a variety of media, Rebecca's work is an observation of nature with a hint of narrative. She gathers her inspiration through exploration of wild places, hours of birdwatching, and a desire to learn the names and relationships between the flora and fauna encountered.

Rebecca was an Isle Royale Artist-in-Residence from June 9th to June 24th, 2017. She has also completed residencies at Michigan's Porcupine Mountains Wilderness State Park; the University of Wisconsin-Madison Center for Limnology Research at Trout Lake; and the Huyck Preserve in New York. Rebecca is a 2016 graduate of the Science Illustration Graduate Program at California State University at Monterey Bay. She is a member of the Guild of Natural Science Illustrators and the American Society of Botanical Artists. See more of Rebecca's photos and illustrations on her personal page.
Next Artist-in-Residence by Date
Return to the Artist-in-Residence Exhibit
Search by Year

Search past Isle Royale Artists-in-Residence by year of their residency.

Search by Artist

Search past Isle Royale Artists-in-Residence by last name.

View Gallery

View past Artist-in-Residence artwork sorted by medium.
Last updated: February 15, 2020