Gerald J. Korte (Artist-in-Residence, 1995)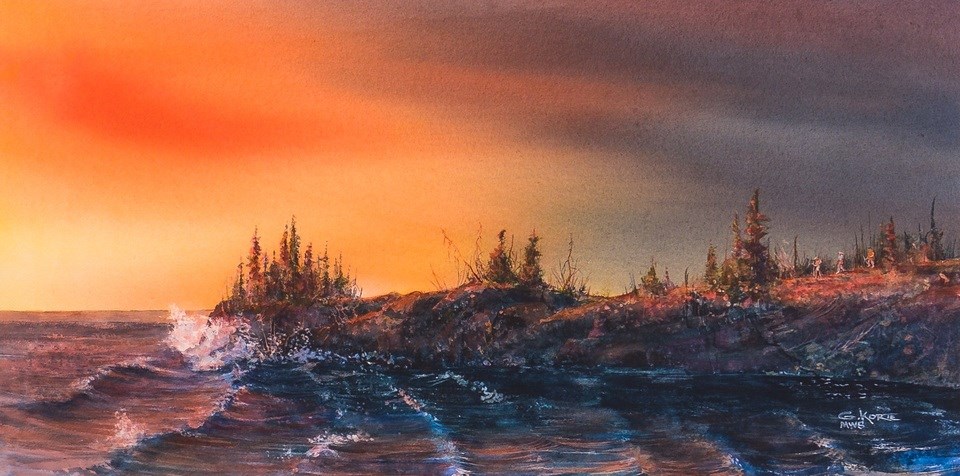 Isle Royale Reflection
"Isle Royale overwhelmed me. The lake action, wind through the trees, night actions and day activities and the unique wildlife of the island created lasting impressions. The themes of my paintings reflect personal experiences; in my approach I seek out the pulse of the moment rather than generalities. It is also my goal to leave enough unsaid in order to enable the spectator to participate by supplying the missing ingredients in the form of a recalled encounter, thereby also living the moment. I hesitate to say that I paint "things" but rather I paint the essence of experiences remembered or fulfilled.
The following brief activities will provide an untold number of paintings and sketches: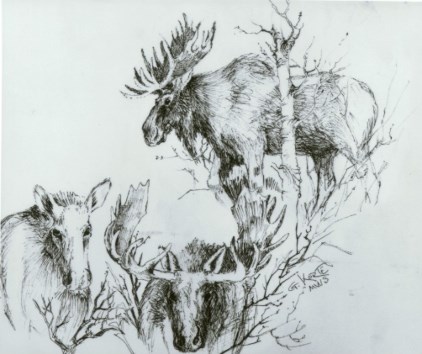 One evening, about sunset we quietly canoe along the shore back towards our cabin from Hidden lake. Suddenly Jane whispers, "Moose". A magnificent bull moose is watching us while he meanders along the shore. In an impulsive reaction I give out with a low grunt. The moose answers and in a short while I try it again. Wow, we are communicating, except I suddenly remember—this is the moose rutting season and I am not sure if I am considered a friend or a foe.
The first evening alone, Scoville Point explodes with strong northeast winds and drenching rains. The propane lantern helps to make the onslaught bearable. I now enter all day and night sessions in a frenzied painting tempo and establish about twenty-five "starts" that I will work on in my home studio.
The fall season is in full bloom in the Isle. This is a favorite season for me. Flower colors richly enhanced by the clear skies and sunlight. Migrating birds rest in the perch trees near the cabin and then leave. Hundreds of cormorants herd the fish to shallow shoreline pools to provide the food they need to fly south."

-Gerald Korte*
About the Artist*
Gerald "Jerry" Korte remembered his beginnings as an artist: "For my fourth or fifth birthday, I received a set of pan watercolors as a gift. I then needed a surface to paint on. My search ended when I found a smooth board that was the side of an orange crate. The completed painting, the smiles and compliments from my parents and relatives, made me feel good. This excitement resulted in the beginning of my lifelong adventure in art." See more of Gerald's work.

After high school graduation, he enlisted in the Navy. In the Eleventh Naval District Fine Arts exhibition he received an award for a pen and ink sketch and "Best Of" show award for a watercolor. In college, his areas of concentration were art education and biology. Eventually he achieved a Master's Degree and a Doctorate in art education. He spent 25 years teaching elementary education, art education, and watercolor at St. Cloud State University. He was an Isle Royale Artist-in-Residence from August 29th to September 18th, 1995. Gerald's son, Jeff Korte, was also part of our program in 1991. Gerald passed away in 2010.

*[Source for all Gerald's page content: Root, Robert and Jill Burkland, editors. (2000). The Island Within Us. Houghton, MI: Isle Royale Natural History Association. p 82. Print.]
Search by Year

Search past Isle Royale Artists-in-Residence by year of their residency.

Search by Artist

Search past Isle Royale Artists-in-Residence by last name.

View Gallery

View past Artist-in-Residence artwork sorted by medium.
Last updated: December 26, 2019