Diane Bywaters (Artist-in-Residence, 1994)

Isle Royale Reflection
"Isle Royale was my first selected artist-in-residency in United States national parks, and it inspired me to go on to participate in a dozen residencies. I was in my element there and loved every minute of it. Filtering water from the lake, burning wood in the fireplace for heat, canoeing to locations to paint, waking up in the primitive but quaint cabin on the tip of the peninsula, and immediately having a scene of incredible beauty to paint.

I enjoyed a fall residency in 1994, and was incredibly moved by the entire experience; especially being so close to nature. I was raised camping every other weekend, so the "roughness" of the experience was a delight. In my childhood, my family would spend two weeks annually vacationing in a national park, and I felt immediately like I had returned home (though I had never been to Isle Royale before). This sense of place can be seen in my oil paintings that I created en plein air: capturing the sense of moment of time, the changing weather, the inspiring light and land/water. It was an incredibly productive time for me and a highlight of my career. It inspired a dedication to the U.S. national parks."

- Diane Bywaters, 2019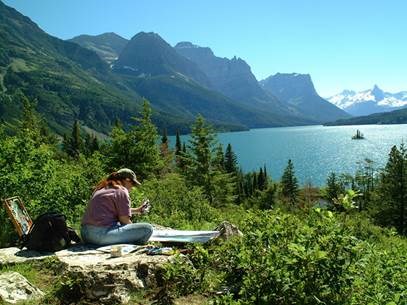 About the Artist
Diane Canfield Bywaters is an emeritus professor of art at the University of Wisconsin—Stevens Point, where she taught drawing and painting for thirty years. In addition, she has forty years of en plein air painting experience; and owes her success to the U.S. National Park artist-in-residencies. She was honored with her first national park residency at Isle Royale from August 30th to September 14th, 1994. Inspired from this residency, she has participated in eleven other national park residencies including twice at Rocky Mountain National Park, Hawaii Volcanoes and Alaska's Denali Wilderness Area. She has also participated in residencies in Italy and France, and other state parks and private artist-in-residencies.

She was honored with both the University's Excellence in Teaching Award and the Scholarship Award (for her extensive exhibition record and residency participation). She has her MFA degree in painting from Washington University in St. Louis; and was born and raised in Kansas City receiving her BFA in painting from the University of Kansas in Lawrence. Her artwork is in collections including United Airlines, 3M, the State Department, Michigan Bell, General Motors Corporation, and Pepsi Corporation. She resides in Stevens Point, Wisconsin with her husband—Tom Dailing—an internationally known jewelry designer, her daughter, and a menagerie of pets. You can learn more about Diane on her personal webpage.

Search by Year

Search past Isle Royale Artists-in-Residence by year of their residency.

Search by Artist

Search past Isle Royale Artists-in-Residence by last name.

View Gallery

View past Artist-in-Residence artwork sorted by medium.
Last updated: December 26, 2019