Amy E. Arntson (Artist-in-Residence, 1998)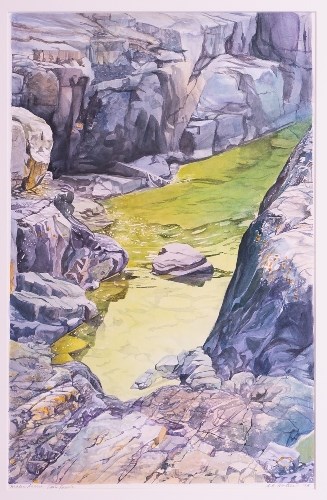 Isle Royale Reflection
"My time as an Artist in Residence at Isle Royale was pivotal to my painting career. Watching the waters of Lake Superior, I found a way to express something deeply meaningful to my life. And I took that home with me. I have been focused on paintings of water ever since."

- Amy Arntson, 2018


About the Artist
Amy E. Arntson was an Isle Royale Artist-in-Residence from June 9th to July 1st, 1998. She bases her paintings of water on direct observation. Her travels and paintings range from such varied sites as the inland Great Lakes region to locations from the Pacific, Atlantic, Persian Gulf, and Scandanavian waters.

She has given presentations and/or shown her artwork at many international venues. She is a Professor Emeritus of Art and Design at the University of Wisconsin system where she taught for 22 years at UW-Whitewater.

Arntson says "Growing up in the Great Lakes region, water has always been a powerful symbol for me. My paintings are about spirit, as much as they are about a body of water. They are intimately connected with the passage of time, with stability and change. I was inspired to begin this series as an Artist in Residence at Isle Royale".
Search by Year

Search past Isle Royale Artists-in-Residence by year of their residency.

Search by Artist

Search past Isle Royale Artists-in-Residence by last name.

View Gallery

View past Artist-in-Residence artwork sorted by medium.
Last updated: December 26, 2019